An open-source project on GitHub has been thrown into disarray after contributors complained it was being promoted via a free drink in return for a star.
The promotion, now withdrawn, appeared on a site operated by SK Telecom, the largest wireless communications provider in South Korea, which sponsors the project. There were step-by-step instructions for creating a user account and starring the Metatron Discovery project, an application for real-time data analytics, based on a customised version of Apache Druid. The campaign seems to have had some success, and the project has nearly 2,500 stars.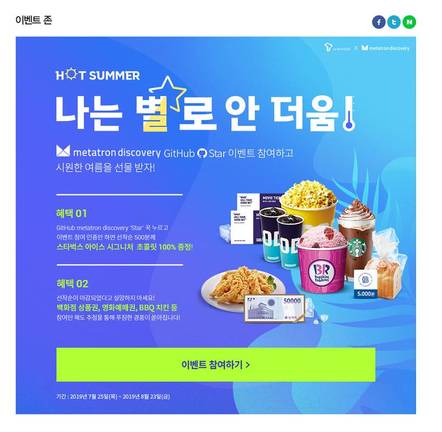 A promotion operated by SK Telecom offered freebies in return for starring a GitHub project
A GitHub star is a public bookmark. Users star a site to add it to a favourites list so they can find it again easily. Although not the same as a social media "like" button, it has some similar characteristics and is used by GitHub in its list of trending repositories. "We look at a variety of data points including stars, forks, commits, follows, and pageviews, weighting them appropriately," says GitHub.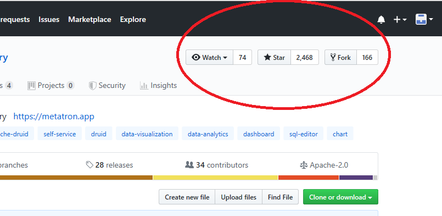 Stars on the project page – but how many were the result of a dodgy promotion?
Developers involved in the project took a dim view, creating issues entitled "Stop abuse GitHub Star" and "[WARN][GITHUB][ABUSE] Get a chance of free Starbuck drink by starring this repo". "I don't think this helps contributors including SKT employees," said one. "You are ruining all the efforts that communities have made GitHub stars a valuable indicator."
Why do such a thing? The project owner attempted to explain themselves, in a post that has now been replaced by a short apology, stating that it was hard for an open-source project to survive inside a major company and that achieving a high star count would help to prove its worth despite internal company politics – though how this could be the case with such an obvious and public incentive to add stars is not clear.
A developer apparently from the company closed the discussion, stating: "We fully respect the community's voice and we decided to reset our repository. We are waiting for the reply from Github upon the procedures and we will follow their guidelines... We will continuously listen to and respect the community's voice and will put our best efforts to abide by the open-source ecosystem spirit. Once again we are deeply sorry and apologize for this issue."
SK Telecom has done the right thing, but the incident shows that what GitHub intended as a developer-to-developer guide to the popularity of projects is open to abuse. ®
Similar topics