Boeing 737 Max passenger jets are today closer to returning to service in the United States after America's aviation watchdog lifted a 20-month ban albeit with caveats attached.
FAA boss Steve Dickson signed off paperwork [PDF] that "enables operation of Boeing Company Model 737-8 and Boeing Company 737-9 airplanes" once any other "applicable requirements for return to service" are met. This order only applies to domestic flights within the US.
The decision follows the regulator's probing into what caused Lion Air Flight 610 to crash into the Java Sea by Indonesia in October 2018, and Ethiopian Airlines Flight 302 to go down the following March, killing 346 people in total. Both planes were 737 Maxes.
It was determined a combination of faulty angle-of-attack sensor hardware and resulting flight control software overcompensation were primarily at fault. As such, Boeing must install improved flight control software, designed to avoid repeat disaster, and train pilots on the upgraded system [PDF], before a 737 Max jet can ferry people from A to B again. The FAA also wants to scrutinize this training.
"These actions do not allow the Max to return immediately to the skies," the watchdog stressed in a statement. "The FAA must approve 737 Max pilot training program revisions for each US airline operating the Max, and will retain its authority to issue airworthiness certificates and export certificates of airworthiness for all new 737 Max aircraft manufactured since the FAA issued the grounding order. Furthermore, airlines that have parked their max aircraft must take required maintenance steps to prepare them to fly again."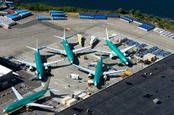 Proposed US fix for Boeing 737 Max software woes does not address Ethiopian crash scenario, UK pilot union warns
READ MORE
The FAA stated Boeing must also upgrade cockpit displays in line with the software update, run sensor tests, and perform operational readiness flight checks.
"The design and certification of this aircraft included an unprecedented level of collaborative and independent reviews by aviation authorities around the world," the FAA added. "Those regulators have indicated that Boeing's design changes, together with the changes to crew procedures and training enhancements, will give them the confidence to validate the aircraft as safe to fly in their respective countries and regions."
Stan Deal, president and CEO of Boeing Commercial Airplanes, said: "The FAA's directive is an important milestone. We will continue to work with regulators around the world and our customers to return the airplane back into service worldwide."
More than 50 countries grounded Boeing's 737s after the accidents, and the passenger jets are still banned from flying in many other countries, including Canada and the United Kingdom. Some US politicians are less than happy with this week's decision.
"Allowing these planes to fly again is a premature leap of faith," said US Senators Richard Blumenthal (D-CT) and Edward Markey (D-MA).
"The FAA's directive to unground 737 MAX aircraft fails to address the larger systemic issues at Boeing and the FAA that led to the deaths of 346 people.
"We have major outstanding concerns about the transparency of the FAA's risky decision to move forward with the ungrounding. The lax oversight that in effect let Boeing self-certify the safety of the aircraft remains in place. Some small changes have been made by the agency, but they are not sufficient." ®