This article is more than 1 year old
While on his way to the clink, IT consultancy big cheese will cough up that $2.9m he embezzled
Nandu Thondavadi reaches agreement with America's financial watchdog
The former CEO of IT consultancy firm Quandrant 4 has agreed to pay back the $2.9m he embezzled from the now-bankrupt business, in a deal [PDF] that finally closes the book on a long-running case.
Nandu Thondavadi signed an agreement this month with America's financial watchdog, the SEC, before he takes a trip to prison for a five-year stretch after pleading guilty to wire fraud. He earlier admitted conspiring with his CFO Dhru Desai to pull more than $4m out of the business between 2012 and 2016 by funneling it through 10 shell companies. A federal judge approved the agreement this week.
Based in Illinois, Quadrant 4 offered consulting and software development support for retail, financial, and medical companies.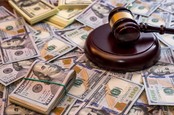 IT biz embezzlement brouhaha leaves bloke with $456k migraine
READ MORE
Together with Desai and investor Bhusan Dandawate – who claimed to own the shell companies – Thondavadi created false payments and phony audit confirmation letters in an effort to cover up the fraud but the SEC grew suspicious and started investigating. It sued the business, Thondavadi and Desai in 2017 and the publicly-traded software company declared bankruptcy the same day.
Under the agreement, Thondavadi will pay $2,641,082 – the amount he embezzled – plus $267,892 in interest. He also agreed to never become an officer or a director of a public company again and admitted that he had tried to obstruct the SEC's investigation into his business, including lying under oath.
Thondavadi was sentenced to five years behind bars in June – a lighter sentence than he could have received though prosecutors pointed to his extensive cooperation and asked for a sentence of just 64 months.
For his part, CFO Desai was given 39 months in jail in September and agreed to pay back $1.6m last June. The investor, Dandawate, agreed to pay the SEC $131,466 with a civil penalty of $325,000. Both men also accepted a permanent bar on serving as an officer or director of a publicly traded company. ®