This article is more than 1 year old
Official: Microsoft will take an axe to Skype for Business Online. Teams is your new normal
Blade to swing in 2021, but 'onboarding' for new Office 365ers starts in September
The equally loved and loathed Skype for Business Online has a date with the Grim Reaper as Microsoft prepares to finally axe the poor old thing.
Posted on the blog page for Microsoft's competing Teams product, the announcement gives users plenty of time to prepare for their final farewells. The lights will go out on 31 July 2021 – two years from now.
The consumer version of Skype is not affected and there are no public plans to switch off the Skype for Business Server because, let's face it, there's no on-premises version of Teams at the moment.
To be fair to the Windows giant, the writing had been on the wall for a while. Teams was introduced in 2017 and rapidly chowed through Skype's breakfast as cloud-based chat, video calling and collaboration were added. Last year the company claimed the two had hit feature parity, despite a derisive snort or two from customers, and it was therefore only a matter of time before, Highlander-style, there could be only one.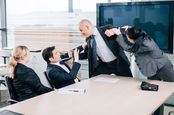 Will you be inspired by Inspire? If Microsoft's Slack-for-suits Teams is your cup of tea, perhaps
READ MORE
As decapitation approaches, administrators will be able to keep on adding new users as needed, although Teams will be very much the default from now on: Microsoft added that from 1 September (a short month from now) all new Office 365 customers will be directly onboarded into Teams.
The company breathlessly added that Teams is an "entirely new way of doing business" – presumably only for customers who have never encountered the occasionally wobbly Slack or its ilk.
Microsoft plans to make Teams more palatable to Skype for Business Online users by adding shorter retention periods to strip channel and chat data from Teams storage (due by the end of 2019), Teams and Skype Consumer interoperability in the first quarter of 2020, and Contact Center and Compliance recording.
We can almost hear the small army of consultants smacking their lips with glee as companies face up to the challenges and potential expense of migration.
It's been a long road to the inevitable meeting with the Microsoft executioner. The service began life as Office Communicator in 2007 before being replaced by Lync 2010. Lync was stomped on by Skype for Business in 2015 and now here we are.
So please, gather round the campfire, hold hands and sing songs of missing features and Redmondian cloudy messaging platforms of the past.
Donations in lieu of flowers. ®