This article is more than 1 year old
This is not the cloud you're looking for.... Oracle's JEDI mind tricks work as Trump forces $10bn IT project to drop out of warp
Defense Sec halts contract decision, probes for Amazon bias
The Pentagon is putting its controversial winner-takes-all $10bn cloud contract, dubbed JEDI, on hold as it investigates whether the whole process was biased in favor of Amazon.
A US Department of Defense spokesperson confirmed to The Register earlier today that Defense Secretary Dr Mark Esper, who got the top job about a week ago, will conduct an examination of the bidding process. This follows his boss, President Donald Trump, demanding a probe into the IT super-deal.
"Secretary Esper is committed to ensuring our warfighters have the best capabilities, including Artificial Intelligence, to remain the most lethal force in the world, while safeguarding taxpayer dollars," the DoD said in its statement.
"Keeping his promise to Members of Congress and the American public, Secretary Esper is looking at the Joint Enterprise Defense Infrastructure (JEDI) program. No decision will be made on the program until he has completed his examination."
The Pentagon did not say when a decision on who will win the project could be made: the deal was due to be awarded this summer.
JEDI, aka the Joint Enterprise Defense Infrastructure, aka the $10bn contract to overhaul the Pentagon's IT operations with a single-vendor cloud-based computer system, has been in turmoil ever since it was announced in 2018. At the heart of the strife was the decision by officials to award the decade-long contract to one lucky chosen cloud provider rather than a collection of suppliers.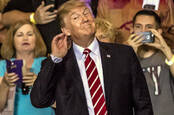 The Empire Strikes Back: Trump discovers $10bn JEDI cloud deal may go to nemesis Jeff Bezos, demands probe
READ MORE
The single-provider nature of JEDI essentially and realistically narrowed the choices down to just Amazon Web Services' and Microsoft Azure – the only two enterprise-grade clouds with a large enough lineup of services, know-how, and the necessary security clearances to fulfill the Pentagon's IT requirements.
Naturally, this irked rivals like Oracle and IBM, who have long argued that Amazon had stacked the deck in its favor by offering jobs to Pentagon staffers to get the single-provider requirement written into the JEDI specifications, if not outright rig the process to hand it to AWS. After they were ruled out of the running for JEDI by Dept of Defense officials, Oracle and IBM bitterly fought the decision through the courts and bureaucracy to no avail.
While a judge shot down Oracle's bid to block the contract on legal grounds, Big Red's cry was eventually heard in the White House, and in mid-July the President demanded that the JEDI contract process be re-examined. All that money crafty Oracle spent on its lobbyists to get Trump to slam the brakes on the deal was, as far as the database giant is concerned, well, well spent.
Also, it probably didn't hurt that Oracle bigwig Safra Katz is a close friend of the administration, while Amazon head honcho Jeff Bezos has long been on the President's bad/sad list, mainly due to the ultra-billionaire's ownership of the truth-spurting Washington Post. ®