This article is more than 1 year old
Lyft pulls its e-bike fleet from San Francisco Bay Area after exploding batteries make them the hottest seat in town
Super Cali 'leccy bikes are proving quite atrocious, even though the biz insists they really quite precocious
Lyft has pulled its entire electric bike fleet from the streets of San Francisco and two other Bay Area cities after a number of cases of exploding batteries.
Pictures shared on social media of burnt out bikes clearly reveal that the bike's battery – conveniently located close to riders' crotches – is to blame.
In one pic of an e-bike docked in its official station on a main road in San Francisco, the battery has burst apart and splattered its contents over the bike, sidewalk, and charging station.
There have been at least two other cases of battery fires in this little ol' corner of the United States: on Wednesday, a passerby reported seeing another one of the bikes catch fire, again in San Francisco, and last week a burning bike was reported on a university campus in Berkeley.
Lyft, an upstart better known for its car-sharing service, confirmed that the sudden disappearance of roughly 1,000 e-bikes on Thursday morning was due to a recall. "Out of an abundance of caution, we are temporarily making the eBike fleet unavailable to riders while we investigate and update our battery technology," the company said in a statement.
The bikes were first introduced in San Jose – the heart of Silicon Valley – in June and have since expanded to San Francisco, Oakland and other Bay Area locales earlier this month.
The bikes themselves are actually a second iteration of the product. Lyft bought bike-sharing company Motivate last year and used that company's bikes to roll out its service but they were pulled after the brakes kept failing.
The new bikes were supposed to rebuild momentum behind the idea of electrically powered short-distance transportation within cities, something that has been dominated by electric scooters in the past year.
Not a fan
The city of San Francisco is not excited about the vehicles – which have been blamed for a jump in injuries reported at emergency rooms. Earlier this year, the city banned all electric scooters and introduced a limited licensing system with stricter controls after residents complained about the city being swamped with the e-nuisances, with many left stranded across sidewalks, in bus lanes and other pedestrian areas.
Several city supervisors have already made it plain that they want answers from Lyft about these latest e-bike problems.
"The last thing you need is a flaming bike as you're riding down the street," Supervisor Vallie Brown told the San Francisco Examiner, adding that she found the idea of bikes batteries bursting into fire "really disturbing."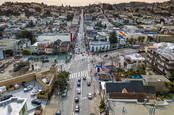 Uber, Lyft rides among the biggest reasons why you're probably sitting in traffic right now – study
READ MORE
Supervisor Matt Haney call the whole thing "really bad, and scary. These definitely should be taken offline until they figure out what went wrong."
It is very, very far from the first time that rechargeable batteries have burst into flames but they have been largely confined to consumer goods like laptops and smartphones. The batteries in Tesla's electric cars have occasionally burst into flames – but only after being hit and compromised.
It's not clear what is causing the fires: the battery itself, damage to it, the design of casing, faulty electronics, or something else. We asked Lyft for more details, including the number of incidents, their cause and when they expect to put the ball-burning bikes back on the streets.
The company told us that it's "unclear whether the bikes and batteries were tampered with or vandalized" and noted that it has seen "increased rates" of vandalism on its bikes.
It promises to be "proactive and transparent" when it comes to safety issues and pointed out that there have been no reports of any injuries from the fires. ®