Google to offer users a choice of default search engine on Android in the EU – but it's pay to play
Neat, another revenue stream
---
Google's Android will charge internet search providers to appear on its court-mandated option screen from early next year.
The ad giant's mobile platform was forced by the European Commission to offer users a choice of search providers rather than just defaulting to Google. As a result, consumers in Europe see an option screen when they first set up an Android device offering them the chance to set the default search engine for the Chrome browser.
Google is still appealing the €4.34bn fine the commission slapped on it for using its Android monopoly to maintain its search dominance.
The case closely mirrors that against Microsoft in the early 2000s when the software giant was found guilty of illegally abusing its monopoly in one area to favour its own products and services in another. Google's remedy of a choice screen also looks remarkably similar to Microsoft's, which offered consumers easier ways to access other browsers.
Once a user chooses a search provider, it will be set on the home screen as well as becoming the default search engine for Chrome, Google's browser. It will also install the search app from the chosen provider.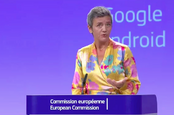 Fork it! Google fined €4.34bn over Android, has 90 days to behave
READ MORE
Google is conducting a closed-bid auction for search providers who wish to appear on the list. This will be done on a per-country basis and provide access from 1 January 2020 until 31 December 2020. There will be subsequent auctions for following years.
Search providers must decide how much they are willing to pay for each user that chooses their service from the option screen for each country. Every country will have a minimum bid threshold.
The three highest bidders for each country will then be ordered randomly as to where in the list they appear. If fewer than three companies bid, Google will fill remaining slots with a randomly selected search provider.
To be eligible, providers must offer a fully supported local language version, be a general search provider and not a specialist, and have a free app available in Google Play.
Bids must be in by 13 September and winners will be announced 31 October.
A spokeswoman for the European Commission told The Register: "The decision provides rival search providers the possibility to strike exclusive pre-installation deals with smartphone and tablet manufacturers. This was not possible before.
"We have seen in the past that a choice screen can be an effective way to promote user choice.
"We will be closely monitoring the implementation of the choice screen mechanism, including listening to relevant feedback from the market, in particular in relation to the presentation and mechanics of the choice screen and to the selection mechanism of rival search providers. The Commission is committed to a full and effective implementation of the decision." ®