If you needed an excuse beyond it being Friday, why not raise a glass to the 11th International Beer Day?
Allegedly started by a Californian bar owner, it is now a genuinely global celebration with 200 events around the world.
Getting involved is pretty simple:
Drink good beer with good friends
Give the gift of beer
Enjoy beers from other cultures
and finally:
Thank your brewer, thank your bartender
There's a website if you need help beyond these simple guidelines.
To mark the occasion, opinion pollster YouGov has created a faintly depressing regional map of Great Britain's favourite beers: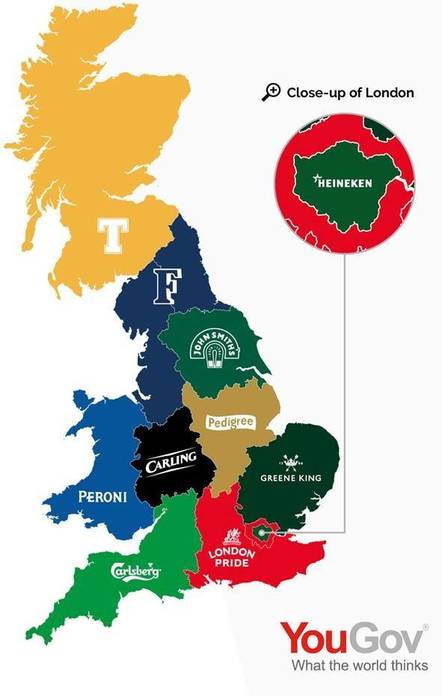 Oh beer me
And the Nobel Prize committee has helpfully tweeted a science angle:
This #InternationalBeerDay we're celebrating Nobel Laureate Eduard Buchner, who proved that fermentation - a chemical process that can convert sugar into alcohol and carbon dioxide - was caused by an enzyme produced by yeast cells, not the cells themselves. pic.twitter.com/SCJUExVPFA

— The Nobel Prize (@NobelPrize) August 2, 2019
First celebrated in 2008, it now takes place on the first Friday of August every year.
The Czech Republic still tops the world consumption league by some margin. Precise figures vary but Japanese brewer Kirin reckons the Czechs down an admirable with 183 litres per person per year (322 pints), down on previous years but still well ahead of Austria in second place with a measly 106.6 litres. The UK languishes in 23rd place with just 66.5 litres.
As the Czechs say: "A fine beer can be judged with just one sip... but it's better to be thoroughly sure."
Kirin's figures are here for local comparisons, but anyone hoping to seize the number one place should be warned that the Czechs have cleared the top spot for 25 years. ®