The NSA's own bastard operator from Hell, aka Edward Snowden, puts out memoir next month
Definitely going on his Permanent Record
Ex-NSA contractor and whistleblower Edward Snowden's memoir, Permanent Record, is to be published on 17 September – Constitution Day in the US.
The book claims to lay bare Snowden's role in helping to create the National Security Agency's system of mass surveillance and how he exposed it to public scrutiny.
Snowden remains in Russia but there's a chance publication could result in an updated version of what older readers might remember as the Spycatcher affair – when the British government attempted to stop local publication of Peter Wright's book about his time in MI5. To be fair to Snowden, we'd expect his book to be a great deal more interesting than Spycatcher.
The resulting furore saw thousands of copies imported from outside the UK and massively boosted sales for the book.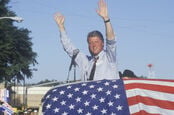 Bill Clinton's cyber-attack novel: The airport haxploit-blockbuster you knew it would be
READ MORE
Moscow resident Snowden is presumably still officially bound by a non-disclosure agreement with his previous employer – we're guessing he hasn't asked the NSA to review the book prior to publication. US authorities may attempt to seize any earnings from the book, if not try to prevent its publication.
Publicity shots reveal a healthier-looking Snowden rocking a pool hustler vibe, sporting a goatee and natty waistcoat.
Published by Macmillan, Permanent Record is available for pre-order here, and you can expect a book review here in due course, like we did with Bill Clinton's The President Is Missing. We do spoil you so.
In the meantime, perhaps the last thing he wrote (together with '80s ambient techno legend Jean-Michel Jarre) will tide you over. ®