This article is more than 1 year old
Who's for another trade war? Japan hits South Korea, Seoul survivor promises to retaliate
Movement of LEDs and chipmaking gubbins to be slowed
The Japanese government has announced it will remove South Korea from its list of trusted export destinations, adding fuel to the fire of the ongoing trade conflict between the two countries.
The so-called "white list" – or Group A – consists of 27 countries free to import goods that have both civilian and military applications, and includes Australia, the UK and the US.
The sudden downgrade is scheduled to come into effect near the end of the month – on 28 August.
South Korea is the only nation to ever be removed from the list.
Naturally, Seoul has pledged to retaliate by striking Japan off a similar list of its own. "It is the Japanese government that is responsible for worsening the situation," South Korean President Moon Jae-in said in a televised speech. "We will never lose to Japan again. We can beat Japan."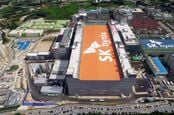 SK Hynix to cut DRAM production, investment as profit declines 89%
READ MORE
The existing export controls, announced in July, ostensibly imposed over a row about Japan's wartime conduct, were recently highlighted by two Korean memory manufacturers, Samsung and SK Hynix, as a growing threat to their businesses.
The products affected by controls included "fluorinated polyimides, used to make organic light-emitting diode displays; resistors used in semiconductor production; and hydrogen fluoride, used as an etching gas in chipmaking," according to the Nikkei Asian Review.
"We cannot rule out production disruption if Japanese export controls drag on," Jin-Seok Cha, head of SK Hynix's finance and procurement, said during an earnings call last week.
The fact that South Korea is removed from the "white list" will not stop shipments of semiconductor parts – but from August, they might face lengthy delays on the border. South Korean leaders think this could be used as a political tool.
Any further disruption of technology components is likely to impact memory prices again: Samsung and SK Hynix are two of the world's largest memory manufacturers, and are already being pummelled by the killer combo of the trade war between the US and China and global memory oversupply.
The trade conflict between Japan and South Korea kicked off in June, and was seen as a response to a ruling by a South Korean court that Japanese companies should pay compensation for using forced labour during the Second World War. Japan insists that the issue was dealt with when diplomatic relations with South Korea were re-established in the 1960s.
The two countries are also engaged in a 300-year-old territorial dispute over a scattering of tiny islands in the Sea of Japan.
Tokyo said the latest move had nothing to do with historical grudges, but was rather motivated by current national security concerns.
US Secretary of State Mike Pompeo previously called on the two countries to bury the hatchet, and will attempt to mediate a meeting between their foreign ministers later this week. ®