An FBI contractor has pleaded not guilty to charges that he installed a camera under a coworker's desk to satisfy his "voyeur" fetish.
Joshua Green was working as a contractor in the J Edgar Hoover building – aka the FBI headquarters in Washington DC – last month. On July 26, one of his colleagues, who had just returned to work from maternity leave, was at her desk when she shifted in her chair and knocked a camera installed under the table onto the floor, NBC Washington reports.
According to court documents, Green retrieved the camera, and was stopped and quizzed by a coworker. He was next taken into custody by the Feds and police. Prosecutors claim during interrogation he admitted to planting the camera, though denies getting any pictures because the spy gear wasn't apparently working properly.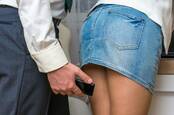 Foot lose: Idiot perv's shoe-mounted upskirt vid camera explodes
READ MORE
The cops claim Green told them he had a "voyeurism fetish," enjoyed taking photographs of young women, and had viewed images of several underage girls on his home computer.
"The suspect advised that there may be images of people that he has taken unconsented pictures of stored on his personal computer, and that he uses personal computers to look at images (both clothed and nude) of girls under the age of 18," the court documents state.
The woman who bumped into the camera confirmed she hadn't given her consent for any images to be taken. She also had chosen to wear skirts to the office after returning from leave, and was concerned that the camera may have recorded her.
Green has now been charged with voyeurism, and on Monday pleaded not guilty. He faces a tough trial: if these crimes were committed, they were carried out in one of the most heavily monitored law enforcement buildings in the country, and the Feds are unlikely to take a potential crime against one of their own lightly. ®
Similar topics