Storied veteran Spitfire slapped with chrome paint job takes off on round-the-world jaunt
Supermarine Mk IX on four-month slog for RAF centenary
---
A restored and defanged Supermarine Spitfire has just taken off from Goodwood Aerodrome in West Sussex, England, on a round-the-world trip.
The plane, finished in polished aluminium rather than camo colours, has had her guns removed and extra fuel tanks built into the wings.
The memorial flight is part of Royal Air Force's centenary celebrations.
The Silver Spitfire, call sign G-IRTY, will fly west heading first to Greenland and then the US. It will cross into Russia, fly south to Japan, across China, Bangladesh, India, Pakistan, the Middle East and into southern Europe. The journey is expected to take about four months, covering 27,000 miles (c 43,500km) – returning to Blighty in December.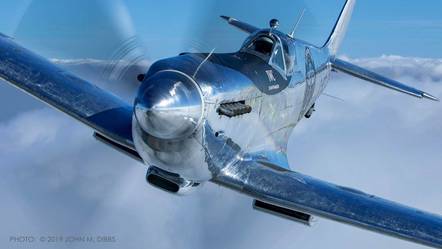 The Mark IX (serial number CBAFIX970) was built in 1943 in Castle Bromwich by Vickers Supermarine Ltd. In October 1943 it was delivered to Polish unit 411 for testing and harmonising the guns before being handed to 118 Squadron for active service flying from RAF Detling near Maidstone. The plane was flown by pilots from Australia, Canada, Norway, Trinidad and the UK – there's more on the plane's history here.
It flew some 51 missions before being retired to a museum. A 24 month restoration project ended with a successful test flight in July.
There's a flight tracker on the project website. ®