AT&T staff were bribed $1m to slip the codes to unlock two million smartphones to a gang operating out of Pakistan, US prosecutors have claimed.
When those telco workers took too long to cough up the codes, the crew bought copies of the employees' work login credentials and used them to go straight into the cellular giant's systems and directly request the codes themselves, it is claimed. Specifically, we're told, the crooks installed malware on AT&T's computers that automated the process of generating and downloading the codes.
And when those AT&T staffers were caught and fired for leaking their usernames and passwords, the foreign gang paid someone to install wireless routers on the US giant's internal network that gave them backdoor access to the telco's systems to, again, silently and secretly obtain phone unlock codes, it is alleged.
These unlock codes can be used to free a handset from AT&T, allowing it to use a SIM and cellular plan from another network. And millions of these codes were snaffled by the Pakistan-based crime ring, with one AT&T worker pocketing as much as $400,000 for their efforts, according to Uncle Sam's prosecutors. Those purloined unlock codes cost AT&T $5m a year in lost revenue, the telco claimed.
The suspected leader of the crew, 34-year-old Muhammad Fahd, has been extradited from Hong Kong to America, and will now face trial in the United States.
According to the Dept of Justice on Monday, the Pakistani national is charged [PDF] with conspiracy to commit wire fraud, conspiracy to violate the Travel Act and the Computer Fraud and Abuse Act, four counts of wire fraud, two counts of accessing a protected computer in furtherance of fraud, two counts of intentional damage to a protected computer, and four counts of violating the Travel Act.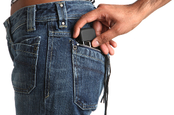 AT&T: 'twas conniving contractors who nicked your info
READ MORE
Fahd was arrested by Hong Kong cops in February of this year. He is set to be tried in a federal district court in Seattle, Washington.
"This defendant thought he could safely run his bribery and hacking scheme from overseas, making millions of dollars while he induced young workers to choose greed over ethical conduct," boasted US Attorney Brian Moran.
"Now he will be held accountable for the fraud and the lives he has derailed."
Prosecutors allege that Fahd, his now-dead co-conspirator Ghulam Jiwnani, and other suspected gang members, contacted AT&T employees at a Washington state call center via telephone and Facebook messages, and bribed them over a period lasting from 2012 to 2017. As well as the bungs, Fahd and his crew in Pakistan would send the staffers the unique identification numbers – the IMEIs – of phones they wanted unlocked for resale, and got the necessary unlock codes in return, it is claimed.
When simply feeding greased employees the hardware ID numbers of phones was not enough, it is said that Fahd convinced the workers to hand over their workplace network credentials, allowing the crew to remotely log into AT&T systems, and install a software nasty that would automate the process of unlocking the desired phones.
On top of all that, the Department of Justice says, when some of the bribed employees were caught and fired – they have since pleaded guilty for their roles – Fahd's team went so far as to get one AT&T staffer to hook up rogue Wi-Fi gateways in the company's network that would grant the intruders backdoor access to the telco's machines without the need for stolen credentials.
When it was all said and done, more than two million handsets were unlocked by criminals and the AT&T call center workers in Washington had pocketed more than one million dollars in bribes paid out in person or via wire transfer, it is alleged.
If convicted on all charges, Fahd could face up to 20 years in prison. ®