This article is more than 1 year old
Cloud vendors can't resist the lucrative smell of gaming dollars – and they're all in it to win it
It makes sense to provide infrastructure for the biggest biz in entertainment
Feature For better or worse, it looks like cloud computing is here to stay. Among other things, "someone else's computer" is changing how people buy and consume entertainment, and after murdering television, the cloud is now messing with the very nature of video games.
Games are the biggest entertainment industry, dwarfing home video, cinema and music both in the US and the UK, based on numbers from 2018.
The gaming landscape presents an interesting new battleground for cloud vendors. At the recent Games Developers Conference, Sunil Rayan, managing director of Google Cloud for Games, said that in March 2018, Google didn't have any AAA titles running on GCP. Twelve months later, it had six.
Google Cloud for Games was established to sling Google's cloudy wares specifically at game developers. Historically, Google was big on mobile gaming since it was propping up the Android ecosystem. More recently, it has started promoting cloud for complex and demanding games. The company has just launched Game Servers, a management tool that subverts Kubernetes for the purposes of running large multiplayer battles.
Google argues that public cloud has serious advantages for multiplayer – most multiplayer games live in small, temporary worlds that need to be created and torn down quickly. What better place to house them than in cloudy VMs, which can be scaled up or down as required?
Microsoft has a head start in this space because it has been eating its own dog food as the only major cloud vendor with a sizeable games publishing business and its own console. Microsoft's titles like Minecraft, Halo and Sea of Thieves already live on Azure, and being a software house, it provides a plethora of development tools, including PlayFab, a backend that integrates game services, data analytics and LiveOps. Some of this goodness comes from an eponymous upstart, which Mister Softee acquired in 2018.
In addition to providing infrastructure for multiplayer games, AWS attempted to get into development tools too, launching a game engine of its own in 2016. Game engines are development environments that enable 3D rendering, scripting, animation, audio, physics and all the rest of the parts you need to build a convincing virtual world.
Lumberyard is being offered for free, and is integrated with AWS for multiplayer features and Amazon's Twitch service for streaming. There's not an awful lot of good engines out there, and "free" is a pretty strong attraction – or at least that's what AWS might have thought.
Problem is, lumberyard is based on CryEngine, developed by Germany's Crytek – the very same engine that gave birth to all of those "can it run Crysis?" memes, so, not really famous for being conservative on compute resources. It has always been available to license, but never became popular – it even went "pay what you want" for a few years after the AWS deal (which was rumoured to amount to $50-$70 million).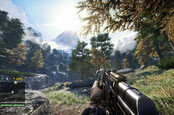 Akamai CEO: Playing games from the cloud? Seems too expensive to be viable right now
READ MORE
The second problem is the games that have been developed on Lumberyard to date are completely uninspiring. With the exception of Star Citizen, which at least has an interesting story: the controversial project got a whopping $250m in crowdfunding, was supposed to be released in 2014, and is nowhere near completion.
Today, the cloud is also being pitched for dedicated game-hosting servers for smaller, older or weirder games (looking at you, ever-enduring Counter-Strike). Until very recently, this was the domain of tiny, specialist colocation and hosting providers, like UK's Multiplay. In 2017, Multiplay was acquired by Unity, the American corporation responsible for one of the world's most widely used game engines, and has since planted itself firmly in the cloud camp. It will sell you managed services for either AWS or GCP.
AWS is playing for this market itself with GameLift – a dedicated game server hosting service that, from July, supports up to 200 players in a single game session, and claims up to 70 per cent compute cost savings compared to colocation providers.
Microsoft doesn't rent out special servers for games, but it has published thorough documentation on how to set one up using standard Azure tools. If you are going to play games, you might as well learn what the tech that powers them looks like.
You might have noticed the omission of game streaming, the relatively new delivery method that all three major cloud vendors are working on. Nobody knows if it will really work for the mass market and even the people whose job it is to deliver content over the internet are questioning whether such a service would be commercially viable.
"It is something we are interested in, we're in a good position to help with, but the economic model hasn't worked out yet," Akamai CEO Tom Leighton recently said about Stadia.
Public cloud has already given developers tools to build new types of truly massive multiplayer games. Without it, the recent Battle Royale phenomenon simply wouldn't exist: Fortnite is hosted on Amazon, PUBG on a combination of AWS and Azure, and Apex Legends is relying on infrastructure from all three of the largest cloud vendors, but mostly GCP.
More cloud gaming means more data centres. A lot more data centres. And that makes me, personally, very happy. Max Smolaks, signing off. ®