Google has extended its Advanced Protection Program to include users signed into Chrome.
The company had already bolstered protection across its preferred apps last week, and this week the Chocolate Factory extended the scheme to Chrome.
Those who turn on slurp sync in Chrome and have signed up for the programme will start enjoying stronger protection.
It's not clear why all Chrome users could not enjoy that same protection. We asked Google, but haven't received a response.
Mountain View said: "While Chrome protects all users against malware, Advanced Protection users will get an even stronger level of protection."
That protection extends to extra warnings and blocking of potentially dodgy downloads.
Ostensibly aimed at the likes of journalists and politicos, the Advanced Protection Program (APP) requires the purchase of a couple of security keys (Google will happily sell you some) which remove the need for those pesky passwords and also identify the account being synced in Chrome as worthy of all those extra protections.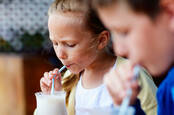 That syncing feeling when you realise you may be telling Google more than you thought
READ MORE
The service is free and raises the bar notionally set by Microsoft's AccountGuard, which is aimed at notifying politicos of threats and account compromises. Microsoft will also suggest best practices.
Google, of course, has gone one step further by forcing users to ditch passwords in favour of something a little tougher to crack.
However, while the extra protection afforded in Chrome is laudable, the fact that a user needs to be signed into sync to access it is disappointing. The company has, after all, had a run-in or two with users over mandatory sign-ins.
Having sync turned on means that data (depending on settings) such as bookmarks, history, passwords and other settings will head to Google to be synchronised over all devices. Ominously, Google will also use the data to "personalise your experience" if Web & app activity is also turned on.
It would seem that to make Chrome that bit more secure, you're going to have to sign in whether you like it or not. ®
Updated to add 09/08/19
Google finally got back to us, saying: "Usability and security can be at odds, and the Advanced Protection Program is designed for those who don't mind giving up some convenience for a heightened level of security. As APP protections would be overly restrictive for most, they are not rolled out to all Chrome users, but anyone can sign up for the Advanced Protection Program, free of charge."