This article is more than 1 year old
Side-splitting bulging batts, borked Wi-Fi... So, how's that Surface slab working out for you?
Reg reader finds a use for the new London store while others struggle with fubar wireless
Microsoft seems unable to catch a break with its Surface slab-tops: a software update appears to have broken Wi-Fi for some users, while bulging batteries cause grief for others.
How's your Surface? Swell, just swell
The bulging of batteries is not an unheard of thing. As devices become ever less repairable and manufacturers strive to slice that extra half millimetre from a slab's thickness, battery technology has struggled to keep pace, and there comes a time when something has to give.
Overcharging, manufacturing defects, and damage from a drop are among causes fingered in the case-warping failures, which can range from annoying to downright dangerous as gases within the battery heat up, resulting in the thing attempting to make a break for it from its tight confines.
Case in point is the anonymous Register reader who got in touch regarding Microsoft's Surface fondleslab. A sucker for punishment, the chap had picked up both the underpowered Surface 3 and premium Surface Pro 3 within a few months of each other, doubtless warming the cockles of Satya Nadella's heart.
Fast forward to now, and bizarrely both devices began to suffer from a swollen battery, sufficient to cause the screen to detach from the case (see picture below).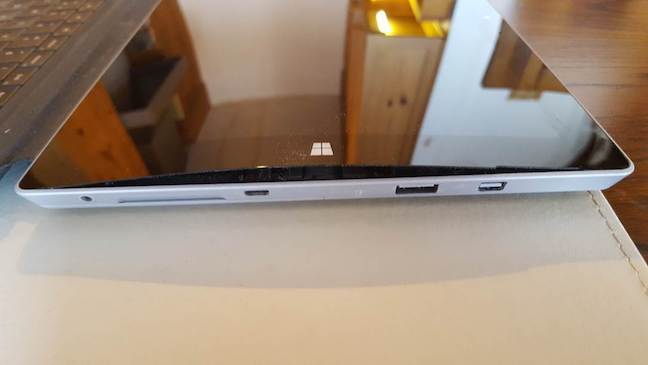 Something is trying to escape from this Reg reader's Surface
Our hero trotted into Microsoft's recently opened London store and was given a brand spanking new Pro 6 in exchange for the bulbous Pro 3, no questions asked. However, the Surface 3 was a different matter, with staff offering him the opportunity to hand it over to be safely disposed of and would he care to purchase a replacement?
Understandably reluctant to part with any cash for further fondleslabs, having had two suffer a similar fate, our reader demurred, and still has the Surface 3 as a souvenir of the affair. We'd advise standing well back in case something... pops.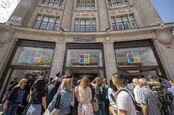 'Is this Microsoft trying to be cool? Want to go to the Apple Store?' We checked out London's new retail extravaganza
READ MORE
A Microsoft spokesperson told us: "We no longer manufacture the Microsoft Surface 3 and Microsoft Surface Pro 3 device; both devices have reached their 'End of Life' and as such are no longer supported. Microsoft Store policy is not to offer a trade in/trade up on any device which has reached its 'End of Life', however, on this occasion the exchange of the Microsoft Surface Pro 3 device was conducted out of courtesy by the Store Associates in London."
To emphasise the point, the spokesperson added: "The Microsoft Surface warranty period is one-year limited hardware warranty."
Unfortunately, however, those batteries cannot easily be prised out of their glued-in prisons by any but expert fingers, meaning that an early demise of the battery will result in a premature trip to the recycling centre or hefty refurb bill if manufacturers like Microsoft stick to their rulebook.
It isn't a great look. Particularly since a fully loaded Surface Pro 6 will set a punter back the best part of $2k. Apple, of course, has battery problems of its own.
iFixit editor Whitson Gordon told us: "We hear stories like this all too often, and the Surface Pro in particular is one of the least user-repairable devices around. Issues like this are why we think repairability is so important. It's not something most people think about when they buy a laptop, but when something goes wrong — and your device is out of warranty — it can make a huge difference."
Surface: Putting the "why, dear God, why?" in Wi-Fi
Battery woes aside, Surface owners have also found themselves at the sharp, pointy end of borked driver updates. Coming pretty much on the first anniversary of the infamous software update that left some Surface Pro 4 owners with inoperative touchscreens, and lengthy boot times, is another release via Microsoft that leaves Wi-Fi fubar.
The busted wireless support, first reported by Windows Latest, appears to be caused by Marvell driver version 15.68.17013.110, which is delivered by Windows Update with a cheery claim that it "improves Wi-Fi connectivity." Alas, judging by the growing number of complaints in Microsoft's support forum for the devices, that may not be entirely true for all users.
Some report being unable to connect to the 5GHz band on a Surface Book with the snookered driver. Others have found their Surface Pro and Pro 6 deaf to all Wi-Fi bands following the bad update. Fortunately all have been able to roll back the driver, unlike many of the unfortunate Pro 4 users of last year.
We've contacted Microsoft to learn more, but have yet to receive a response. ®