This article is more than 1 year old
Ohm my God: If you let anyone other than Apple replace your recent iPhone's battery, expect to be nagged by iOS
Shocking current-affairs news: Cupertino idiot-tax operation hits resistance over harsh repair policy
Apple appears to be discouraging owners of recent iPhones from having device batteries serviced by a third-party repair service, an exercise in market control that looks ill-timed amid growing scrutiny of potential anti-competitive moves by tech giants and pushback against limitations on repair rights.
According to equipment repair nerve-center iFixit and Justin Ashford, who runs The Art of Repair channel on YouTube, third-party battery replacement in an iPhone XR, XS, or XS Max running iOS 12 or iOS 13 beta leads to the presentation of a "Service" message in the Battery Health sub-menu that's part of the fondleslab's Battery settings menu.
This message urges the iPhone owner to have the newly installed battery replaced – which Apple advises should be done only through an Apple Store or authorized service provider due to potential safety issues – even if an Apple-supplied battery is installed by a third-party.
"Apple is locking batteries to their iPhones at the factory, so whenever you replace the battery yourself – even if you're using a genuine Apple battery from another iPhone – it will still give you the 'Service' message," wrote Craig Lloyd, staff writer for iFixit. "The only way around this is – you guessed it – paying Apple money to replace your iPhone battery for you."
According to Ashford, Apple relies on a proprietary version of a Texas Instruments chip that authenticates the battery using a key stored on the iPhone's logic board.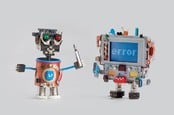 Google nuked tech support ads to kill off scammers. OK. It also blew away legit repair shops. Not OK at all
READ MORE
While it's technically possible to remove the microcontroller chip from an iPhone's original battery and solder it onto a new battery so it authenticates, doing so is said to be a significant technical challenge that shouldn't be undertaken by inexperienced technicians – soldering and lithium-ion batteries can be a combustible mix.
The Register asked Apple for comment, fully expecting to be ignored. And as anticipated, we've heard nothing from the fruit-themed tech biz.
Device makers have attempted to control their products post-sale for decades, but the issue became particularly acute in the wake of the 1998 Digital Millennium Copyright Act's prohibition on circumventing digital protection measures. With software now in so many products – particularly mobile phones – device makers have been able to use legal and technical barriers to make it difficult for customers to modify or repair hardware purchases. What's more, increasing miniaturization has encouraged design decisions like gluing parts together that further hinder repairability.
But pushback against device makers appears to be growing. In March, California became the 20th state to introduce right to repair legislation.
Apple reportedly wants the bill killed, a desire it justifies by claiming third-party repairs are potentially dangerous. As it notes on its website, "Some counterfeit and third-party batteries may not be designed properly and could result in safety issues."
There's some truth in that – crappy counterfeit kit is not an imaginary problem – and perhaps some self-interest. In a letter to Apple stockholders in January announcing revised guidance for the company's fiscal 2019 first quarter, CEO Tim Cook said that revenue would be lower for several reasons, one of which was that some customers were "taking advantage of significantly reduced pricing for iPhone battery replacements."
Apple dropped its battery replacement price from $79 to $29 in January 2018 through the end of that year as penance for "battery gate." The damage that program inflicted on the company's revenue suggests the battery replacement business is a good one when prices remain high.
In a Twitter post, Nathan Proctor, who heads the Right to Repair campaign with United States Public Interest Research Group (USPIRG), a public advocacy group, decried Apple's actions. "It's clear what Apple wants to do," he said in response to iFixit's post. "They want to dictate who can fix what, and at what cost. And if we don't stand up for Right to Repair now, we will lose a critical aspect of ownership."
In an email to The Register, Lloyd said he wouldn't necessarily call Apple's behavior anticompetitive, though it could be seen that way in the sense that Apple doesn't want to compete with independent repair shops.
"Apple simply wants a monopoly on repairs and parts for the sake of 'quality control,'" he said. "However, imagine if you needed to replace the battery in your car, but you could only buy the battery from the dealership, and only they could install it, even if you could easily replace it yourself. That sounds ridiculous!"
With the US Justice Department recently empowered to scrutinize the business practices of Apple and Google for potential anti-competitive behavior, there's a possibility device makers may have to learn to play nice with others. ®