Microsoft emitted an update to next year's Windows 10, aka 20H1, last night, with some tweaked networking and the spreading of the creepier-than-you-might-have-realised Cortana to more Insiders.
Build 18956 is very much a steady-as-she-goes affair for Fast Ring Insiders as Microsoft continues to recover from the accidental blurting of the OS to all rings of the Windows Insider program, regardless of the desires of its unpaid army of amateur testers.
The most eye-catching change this time around is a revamp of the network page, which has been a bit of a mixed bag up until now. Users would often end up dropping into something that looked suspiciously like an earlier version of Windows to deal with recalcitrant network adaptors.
The improvements are welcome and list all connections as well as making it clear which is being used to connect to the Internet. The status page also shows that all important data usage for each connection. A user can then drop into the network to see what is actually using that precious data and slap on limits accordingly (although only on a network basis at present.)
The "new Cortana experience" is also being extended to 50 per cent of Windows Insiders. Cortana has been a tad sidelined over the recent times, and is now little more than an app with a chat window. As if to underline the inconsequentiality of the thing, Microsoft suggests wheezes such as asking it the weather, or requesting a joke.
The underlying assistant technology will, of course, find its way into Office. The Windows 10 version is currently just a bit of a curiosity, although the gang has promised Microsoft Store updates to add features lost from the previous version.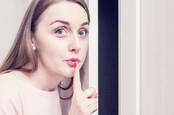 Reminder: When a tech giant says it listens to your audio recordings to improve its AI, it means humans are listening. Right, Skype? Cortana?
READ MORE
And, of, course, you can talk to Cortana too. Although be careful what you say. You never know who might be listening.
As well as the Always-On-Top calculator putting in an appearance and improvements to notifications and the Chinese IME, the release also killed off hopes that at least one deleted feature might make a comeback.
Sadly, Homegroup options that popped up in the "Give access to" File Explorer context menu shouldn't have been there and the Windows giant has stomped on the function once again. We can imagine shrieks of "kill it with fire!" emanating from deep within the bowels of Redmond.
Indeed, File Explorer has received plenty of fixes this time out, with the lauded search function getting attention. A crash when searching the OneDrive folder (when OneDrive isn't running) is fixed as well as the potentially embarrassing bug that left recent searches visible even when turned off via group policy.
Things remain a tad rough around the edges, as evidenced by a fix to stop the search drop down being "disconnected" when the File Explorer window is dragged. Still, the finishing line is still more than half a year away.
And yes, Realtek SD reader users (or some of them at least) and players of games that haven't received a patch for offending anti-cheat code should steer clear for the time being. ®
Similar topics