Alexa, can you tell me how many Chinese kids were forced into working nights to build this unit?
Your wondrous Amazon smart speaker may be tainted with the paw prints of child labour
Updated An investigation by China Labor Watch has found that Amazon's Alexa and Echo devices are being made by child interns, some forced to work night shifts so suppliers can keep up with peak demand.
The report found schools providing interns to work night shifts at a Hengyang Foxconn plant, producing Amazon devices. Kids who declined compulsory overtime were told by their teachers that it would affect their graduation from school. Teachers stayed at the factory and, it is alleged, helped fire pupils who refused to cooperate.
Foxconn - which also assembles components for Apple devices, among others - peak period begins in July. The report claimed it has hired 1,581 pupils from local technical colleges and is looking for more.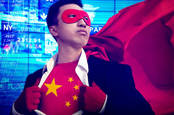 Foxconn denies it will ship Chinese factory serf, er, workers into America for new plant
READ MORE
The pupils are said to be paid $248 a month to work 10 hours a day, six days a week. Their school is paid 42 cents for every hour each pupil works at the factory. Teachers, who get a $425 bonus from Foxconn, work with factory managers to pressure the pupils into working overtime and night shifts. Teachers verbally and physically abuse pupils to ensure compliance with factory demands.
China Labour Watch obtained internal Foxconn documents suggesting the company was negotiating with Amazon to allow it to break the rules on limiting dispatch workers to 10 per cent of total staff.
The pressure group provided the example of Xiao Fang (name changed), a 17-year-old student majoring in computing at a vocational high school. Her teacher told her she would be working eight hour days for five days a week.
But from 22 July, she was told to work 10 hours a day and six days a week. Her job was to put protective film on Amazon Echo devices and she was expected to produce 3,000 devices a day. When she complained to the manager of her assembly line that she didn't wish to work overtime, they informed her teacher, who told her that if she did not comply she would be sacked, which would "affect her graduation and scholarship applications".
Another example provided is that of an 18-year-old student working for Foxconn - which was the world's tenth biggest employer back in 2012 - for the second year running. In September last year, his school suspended all classes and sent everyone to work for Foxconn for three months. Pupils complained to the local higher education bureau and heard that an investigation had been launched, but nothing has changed.
The work "interns" do is the same as that done by permanent workers. While at their stations, this can involve 50 repetitive motions per minute to keep up with the production line.
While Amazon claimed the report came as a terrible shock, it reflects a similar one from 2018 which found Foxconn routinely broke Chinese labour laws in hiring so-called dispatch workers.
These workers get substantially less pay and rights than full-time staff. Chinese labour laws restrict factories from employing more than 10 per cent of staff on this basis. Foxconn's Amazon factory had 40 per cent dispatch staff last year. Such workers get no paid sick leave, are sent on unpaid leave during quiet times and get less safety training. They are paid the same for normal or overtime hours and are required to work 100 hours a month of overtime during busy periods.
Rates for school interns have fallen from ¥1,950 ($276) last year to ¥1,750 ($243) this year, the report said.
Amazon sent us the following statement:
We do not tolerate violations of our Supplier Code of Conduct. We regularly assess suppliers, using independent auditors as appropriate, to monitor continued compliance and improvement – if we find violations, we take appropriate steps, including requesting immediate corrective action. We are urgently investigating these allegations and addressing this with Foxconn at the most senior level. Additional teams of specialists arrived on-site yesterday to investigate, and we've initiated weekly audits of this issue.
The Register has asked Foxconn to comment.
China Labour Watch has written to Amazon's boss, Jeff Bezos, outlining the violations of local laws and offered to work with his company to ensure better compliance and improved conditions for staff and interns. ®
Updated to add at 1243 UTC 9 August
Foxconn told The Reg:
We can confirm that, effective immediately, the percentage of interns assigned to that facility will be brought into full compliance with the relevant labor law. While the percentage of interns in that facility has fluctuated due to the schedules of incoming and outgoing program participants, there have been occasions when that percentage has exceeded permitted levels and we are taking action to ensure that this does not happen again.
In addition, we have doubled the oversight and monitoring of the internship program with each relevant partner school to ensure that, under no circumstances, will interns be allowed to work overtime or nights. There have been instances in the past where lax oversight on the part of the local management team has allowed this to happen and, while the impacted interns were paid the additional wages associated with these shifts, this is not acceptable and we have taken immediate steps to ensure it will not be repeated.