Another 3,900 staffers gone, 3 data centres to be closed, and yet DXC revenues keep falling
Frankenfirm optimises downwards in fiscal Q1
DXC's stock took a pummelling last night as the outsourcer published a grim set of figures for fiscal Q1 2020.
Shares plummeted in after-hours trading, resulting in a market cap decline of nearly $3bn as revenues for the quarter shrunk by 7.4 per cent to $4.89bn from $5.28bn in the previous year.
The bad news continued with pre-tax income down to $206m from $360m a year ago. The company fingered axe sharpening restructuring costs of $142m as a factor in the decline as well as $105m of transaction, separation and integration-related costs, and $138m of amortisation of acquired intangibles.
The result was diluted earnings per share down to $0.61 from $0.78.
CEO Mike Lawrie put a brave face on things, pointing to a digital pipeline growth of 80 per cent in 2019 and a faster than expected move to the cloud by clients, although one that has left the company with "stranded costs".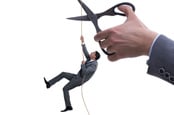 Driving Xtreme Cuts: DXC Technology waves bye bye to 45% of Americas Security divison
READ MORE
Ominously for nervous employees, Lawrie also said during the earnings call: "Our delivery team was also behind on its fiscal '20 cost improvement plan particularly on workforce actions in high cost countries," before admitting that "it is taking longer to eliminate the head count as we automate activities."
Lawrie added that DXC had suffered a bit of buffeting from currency headwinds.
CFO Paul Saleh piped up to say that the company was, unsurprisingly, reducing its revenue targets to between $20.2bn and $20.7bn. Saleh blamed up to $200m of that on a strengthening US dollar and the rest on delayed deals and "slippage on a few large transformation milestones".
Saleh went on to say the company now expected to achieve no more than $300m in cost savings, down from the original goal of $400m despite the "optimisation" of 3,900 staffers out the door during the quarter. Some employees are, however, clinging on as the company "experienced delays in exiting resources in high cost complex countries".
The CFO also expected that the company would be cutting another 600,000 square feet of office space and closing three additional data centres throughout the year.
Closing those deals should see revenues improve during the second half of the fiscal year, according to Saleh. But investors were left just as jittery as the company's staff and sent shares down by as much as 20 per cent during after-hours trading.
In the last year, stock in the company has dropped from a peak of nearly $100 in September 2018 to under $50. ®