Newly analysed recruitment figures from British Russell Group universities show a slowing of recruitment of European academics and increasing departures.
The number of EU academics in all disciplines working in the UK is still growing, but much more slowly than it was. In 2017/2018 there was a 4 per cent increase, compared to 8 per cent in 2014/2015 and 12 per cent in 2013/2014. During the same period, growth in UK academics continued to increase.
There has been an increase in the numbers of EU academics leaving Russell Group universities – up 11 per cent between 2015/2016 and 2016/2017 from 3,865 to 4,280. This compares with UK and non-EU academics leaving their posts growing by 4 and 5 per cent in each period.
Chemistry, biosciences, physics and engineering are being hit disproportionately hard. EU academics make up 27 per cent of chemistry departments at Russell Group universities but 36 per cent of academics who left chemistry posts in 2016/2017.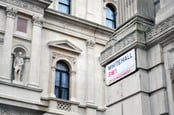 UK.gov finally adds Galileo and Copernicus to the Brexit divorce bill
READ MORE
The research was based on figures from the Higher Education Statistics Agency by Dr Hollie Chandler, senior policy adviser at the Russell Group.
The policy group called on the government to enshrine the rights outlined in the Settlement Scheme for EU Nationals in UK law as quickly as possible.
Chandler drily noted: "Given the current gridlock in Westminster, this suggestion is offered more in hope than expectation. But with growing concern over the prospect of a no-deal Brexit in October, this issue is not going to go away. The longer EU academics have to wait for legal clarity over their immigration status and certainty over the UK's access to EU research programmes, the more likely it is problems in recruiting and retaining EU staff will intensify."
UK Prime Minister Boris Johnson said last week that he would consider removing or extending the cap on Tier 1 talent visas, but this was seen as unlikely to reverse other pressures such as continued uncertainty over access to European research funding.
The Russell Group of universities is a self-selected group of 24 of the UK's top research and teaching institutions including ICL, King's College London, LSE and the universities of Birmingham, Bristol, Cambridge, Edinburgh, Glasgow, Liverpool and Oxford among others. ®