This article is more than 1 year old
Tor pedos torpedoed again, this time Feds torpedo four Tor pedos – and keep how they unmasked dark-web scumbags under wraps
Child abuse swap-shop admins to spend decades behind bars
The FBI is keeping quiet how exactly it brought down a Tor-hidden pedophile haven, having secured decades-long prison sentences for four of the website's administrators.
Three men from the US and one from Canada were sent down for 20 to 35 years each for running a .onion site called The Giftbox Exchange, used by warped perverts to trade child sex abuse images, prosecutors announced today. At the time of its shutdown, we're told, the dark-web website, which was hidden on the Tor anonymizing network, had 72,000 registered users and 56,000 forum posts that were categorized by the age range of the victims.
Patrick Falte, 29, from Franklin, Tennessee, was found to be the creator of the site and given 35 years in the clink along with a lifetime of supervised release. He was said to have run the site from 2015 to 2016 as a members-only swap shop with server hosting costs paid for in cryptocurrency. As administrator, Falte required users to upload images or footage of children being sexually abused to the site before getting access to the forum.
In announcing the prison terms, federal prosecutors noted the lengths the vile group went to in order to hide their activity from the Feds. In addition to concealing the website's whereabouts and traffic on Tor, and opting for cryptocurrency payments, prosecutors said the group used "other advanced technological means to thwart law enforcement efforts, including file encryption and cryptography".
The exact details on how Uncle Sam's g-men unmasked the exchange's sick masterminds remain a secret, however, as the relevant court documents are sealed. If past cases are anything to go by, the FBI may have used what its special agents call a network investigative technique – a webpage script, Flash file, or malware, potentially – to identify the .onion server's true public IP address, or the public IP address of its administrators or users. The crime-fighters may have developed other ways to pinpoint Tor denizens.
The FBI seeks to keep this information secret to prevent scumbags from adjusting their methods to evade detection.
"The Giftbox Exchange proved a haven for sophisticated predators to produce and spread deplorable depictions of child sexual abuse," said assistant AG Brian Benczkowski of the Justice Department's criminal division.
"These sentences affirm that layers of anonymity on the dark web will not prevent the Department of Justice from identifying and holding accountable those who exploit children."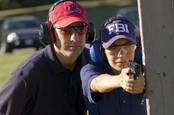 FBI: We unmasked and collared child porn creep on Tor with spy tool
READ MORE
Falte and another site administrator, Benjamin Faulkner, 28, from Ontario, Canada, were also given life sentences for their role in the abuse of a minor in a separate case, making their supervised release requirement likely a moot point.
Two other Giftbox Exchange administrators, Andrew Leslie, 24, of Middleburg, Florida, and Brett Bedusek, 35, from Cudahy, Wisconsin, were given 30 and 20 years in prison, respectively, for their roles as moderators and members of the pedo cyber-lair. Leslie was also found to be operating another child sex abuse image site, again on the Tor anonymizing network.
The prosecutors are revealing little about how they were able to track down the administrators through Tor, which obfuscates the public IP addresses of its users and so-called hidden services on the network by routing their connections through a maze of nodes. It is shared by a mix of pro-privacy netizens, journalists, activists, criminals, and others.
Many documents in the Giftbox case, including the original complaint, were filed under seal and remain locked off from public view. The FBI has in the past sought to reveal as little as possible about their methods for tracking dark web sites to preserve ongoing investigations. ®