Two Canadian lovers have tentatively agreed to pay $7m to the SEC, America's financial watchdog, to settle a long-standing lawsuit.
Dominic Lacroix and Sabrina Paradis-Royer raised $15m in funding for the launch of the PlexCoin, which they said would be used to fund the operation of the Canadian cryptocurrency group PlexCorps.
But the pair were the first targets of a new cybercrime division setup at the SEC looking into initial coin offerings (ICO) back in December 2017: the couple was sued by the financial regulator, which claimed there was no actual company behind PlexCorps and they simply planning to use the money for, among other things, "home décor projects." Essentially, it was alleged Lacroix and Paradis-Royer tried to rip off marks by making "false and misleading" statements about the potential returns on investment in the PlexCoin ICO, and operated an unregistered digital currency.
It didn't help that Lacroix had history – he is "a known recidivist securities law violator in Canada," the SEC claimed in its lawsuit against the pair. The watchdog stepped in after the duo had got hold of $200,000 and were about to grab another $800,000. All funds were frozen when the lawsuit landed.
The two have desperately fought the case, claiming first that the SEC didn't have jurisdiction over the Canadian company and individuals, and then arguing that the case would set a dangerous precedent in which any form of online activity could result in federal charges.
But both those claims were dismissed by a New York judge who noted that Lacroix had not only used social media accounts based in the US to push the ICO but also US payment services. He had also visited the US several times to drum up business and many of the investors were US citizens. In short, the money was made in the US so the SEC has jurisdiction.
Now, 18 months since the lawsuit was lodged, the pair have tentatively agreed to a final settlement that will see them hand over $4.56m in profit plus $348,000 in interest. They will also pay $1m apiece as a civil penalty. Most of the funds are likely to come from three accounts connected to the pair that have been frozen at Wells Fargo, Square and Payward. But no less than another 23 bank accounts are listed in the judgment, which the SEC appears confident covers all their assets.
Notably the settlement [PDF], which was filed this month and has yet to be signed off by a judge, does not include any admission of wrongdoing but it will bar the pair from securities trading unless there is a registration statement. They are also barred from any future ICOs and Lacroix is barred from becoming a director of office of a company that offers such products and services.
A win... for now
In many respects, the deal, if approved by the courts, is a big win for the SEC's cybercrimes division: it gets to close the book on the first case it brought in a pretty satisfying manner. The division has clearly tried to set the legal boundaries for cryptocurrency and coin offerings in a range of lawsuits over the past year and the message is broadly: we are watching.
But that approach may still turn sour in another high-profile ICO case that the SEC has undertaken: against Kik.
Kik is also a Canadian company that also provided its own cryptocurrency, called Kin, and which the SEC also says violated financial laws by not registering its offering with the regulators.
While this is seemingly an identical case to PlexCoin, Kik is pushing back heavily and last week filed its response to the SEC's lawsuit in which it argued that not only has the SEC misrepresented its offering but has also failed to give sufficient detail over how it views digital offerings.
The SEC sued Kik in June this year and said its Kin tokens were basically an ICO for the main company, Kik. Kik says that's not the case at all. It says there two different launches – a pre-launch and a public launch – and that it wasn't solely to benefit Kik but was also intended to float as its own "community currency," like Bitcoin.
It also refuses to use the term "initial coin offering" (ICO), insisting on referring it to as a "token distribution event" or TDE. It raised around $100m, with more than half coming from US investors.
The company says that it made clear that the value of the Kin tokens would be impacted by other third parties and its value would likely fluctuate – i.e. it wasn't just a Kik-reliant currency – and that the SEC essentially cherry-picked quotes to make its case.
But what may be a winning argument is that Kik goes on to argue that it hasn't been given due process because the SEC's guidance is too vague to be easily understood and applied. Kik argues it simply didn't know that its "TDE" would violate the law.
The law is an ass?
This would normally be a poor argument – the IRS famously reminds people that ignorance of the law does not mean those laws don't apply. But in this case, it is a new area and the SEC has, in fact, only issued high-level guidelines.
In contrast, the guidance from both the UK and Canadian financial authorities have been much more specific. The UK's Financial Conduct Authority (FCA) has put out quite a lot of information about what it terms "cryptoassets," listing different types and explaining how it views them.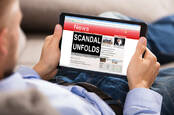 Remember that crypto-exchange boss who mysteriously died after his customers' coins disappeared? Of course he totally stole them
READ MORE
By contrast, the SEC has only provided high-level advice and appears to be using its lawsuits and other enforcement actions as a way of defining the law and how different cryptoassets are viewed.
It's a different approach that is perhaps more flexible but has been criticized by one of its own commissioners, Hester Peirce, who likened the approach to a Jackson Pollock painting where the SEC was "splashing lots of factors on the canvas without any clear message."
"It is our duty as a regulator to provide the public with clear guidance as to how people can comply with our law. We have not yet fulfilled this duty," she said in May at a securities conference, adding: "The result is that many would-be brokers and trading platforms are stuck in a frustrating waiting mode; they are unable to get clear answers to questions about how they may proceed in this market."
The fact that one of the SEC's own commissioners thinks that the SEC is being too vague is almost certainly going to feature in the Kik lawsuit. ®
Similar topics