All roads in US cable biz GTT's Brit network seem to lead to Menwith Hill
You know, the US spy station with the golf balls
---
A curious thing happens when you look at a map of fibre-optic cables – most of the UK section of American cable operator GTT's network appears to link the NSA spy station at Menwith Hill in Yorkshire with continental Europe.
Thanks to the diligent efforts of Alan Turnbull at secret-bases.co.uk, The Register can point the curious (and the conspiratorial) to a handy map of fibre-optic cables that seems to show the bulk of GTT's British operations links Menwith Hill to the Continent – and to transatlantic cables leading back to America.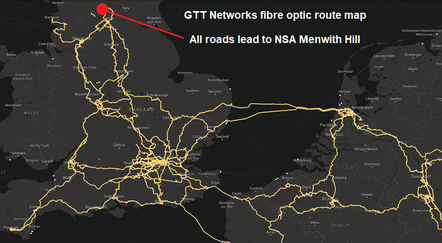 'All roads lead to Menwith Hill!' Pic: Infrapedia, captioned version via secret-bases.co.uk
As can be seen from the annotated screenshot above, GTT also has high bandwidth fibre-optic cables leading down to Cornwall – where GCHQ has its Bude cable-tapping station, eavesdropping on Britons' internet communications.
Parts of the network were formerly owned by Hibernia Networks, which GTT bought in 2017.
Further GTT-owned links depart this sceptred isle at Dover (for Calais), as well as a point midway between Brighton and Hastings on the South Coast – and at two points in East Anglia, as well as the transatlantic link near Southport.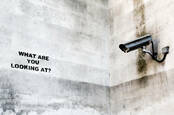 How NSA continued to spy on American citizens' email traffic – from overseas
READ MORE
Menwith Hill has long been known as the US National Security Agency's UK outpost, where American spies can eavesdrop on phone lines and internet traffic and more to their hearts' content. Menwith Hill is used by the NSA to evade American laws intended to fit a choke collar around the spy agency's doings.
GTT was also the operator that left the security doors and gates of its Hibernia Express cable landing station in Southport wide open earlier this year, to the delight of visiting Mail on Sunday reporters who poked their heads in and asked what the hell was going on.
The Tier 1 IP network provider bought Dutch operator KPN's network for €50m a few weeks ago, giving it control of that network's metro rings in London, Frankfurt, Amsterdam and Paris.
Curious readers will notice that secret-bases.co.uk's latest update about the cable map was appended to its earlier discovery that Virgin Media has taken to skulking in public toilets as part of its effort to push fibre at unsuspecting punters.
We have asked GTT for comment. ®
Similar topics
Broader topics