Apple is a filthy AWS, Azure, Google reseller, gripe punters: iPhone giant accused of hiding iCloud's real backend
Breach of contract, false advertising, unfair business practices sueball fired
---
Apple is being sued for breach of contract, false advertising, and unfair business practices for allegedly reselling Amazon Web Services, Microsoft Azure, and Google Cloud Platform services under its iCloud brand – and failing to adequately disclosure that relationship to customers.
The iGiant, which for decades has tried to own its technology stack to avoid dependency on competitors, has been unable or unwilling to make iCloud stand up without support from rival service providers like Amazon, Microsoft and Google, the lawsuit filed on Monday claims.
Since at least 2011, when iCloud replaced MobileMe, Apple has outsourced at least some of iCloud's plumbing to AWS and Azure.
Despite committing $10bn to data center investment over five years in 2018, the company acknowledges in its iOS Security Guide that it stores encrypted file chunks on both Apple and third-party storage services like AWS and Google Cloud.
The lawsuit [PDF], filed in US District Court in San Jose, on behalf of plaintiffs Andrea Williams and James Stewart, claims the iCloud service agreement specifies that Apple provides the cloud storage being purchased.
"Touting itself as the provider of the iCloud service (when, in fact, Apple was merely reselling cloud storage space on cloud facilities of other entities) allowed Apple not only to obtain paid subscriptions of class members who subscribed to iCloud believing that their cloud storage was being provided by Apple, but also allowed Apple to charge a premium for its iCloud service because subscribers placed a value on having the 'Apple' brand as the provider of the storage service for their most sensitive data," the complaint says.
The plaintiffs, it's claimed, would not have chosen to use iCloud had they known they were paying a premium for, and handing their files over to, a third-party service.
The legal filing notes that in mainland China, where Apple is required to use a local third-party to provide cloud storage, the company discloses that fact in its service agreement.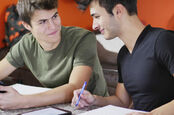 Apple and Microsoft's odd couple collab on iCloud for Windows is more Hall & Oates than Walter and Jesse
READ MORE
Acknowledging Apple's claim in its iOS Security Guide that the company alone holds the encryption keys for customer data stored with other cloud providers, the complaint insists that Apple's justification for its behavior doesn't legitimize it.
"No iCloud subscriber bargained for or agreed to have Apple turn his or her data – whether encrypted or not – to others for storage," the complaint says. "...The subscribers bargained for, agreed, and paid to have Apple – an entity they trusted – store their data. Instead, without their knowledge or consent, these iCloud subscribers had their data turned over by Apple to third-parties for these third-parties to store the data in a manner completely unknown to the subscribers."
The complaint claims that Apple pays about half a billion a year to Amazon and Microsoft for storing iCloud data but has never justified or publicly explained its practice.
The Register asked Apple to comment but the company's silence continues. ®