Despite the US Department of Defense's assurances last week that any and all ethics complaints against the $10bn Joint Enterprise Defense Infrastructure (JEDI) cloud contract had been fully resolved, the Pentagon's internal investigators say they are still poring over the matter.
In a statement provided to multiple publications, the Defense Department's Inspector General confirmed that its own probe into claims of improper behavior by lead bidder Amazon Web Services is still ongoing.
"We are reviewing the DoD's handing of the JEDI cloud acquisition, including the development of requirements and the request for proposal process," the statement reads.
"In addition, we are investigating whether current or former DoD officials committed misconduct relating to the JEDI acquisition, such as whether any had any conflicts of interest related to their involvement in the acquisition process."
The investigation centers around claims that AWS helped to influence the structure of the winner-takes-all contract by offering payments and jobs to individuals within the Pentagon who were to decide the terms of the deal.
Opponents of the plans, namely Oracle, say that these favors for Pentagon staff resulted in the decision to make the $10bn JEDI contract only available to a single-provider, rather than allowing groups of bidders to deliver different parts of the undertaking.
This requirement essentially limited the field of eligible applicants to AWS and Microsoft, who have the cloud services and government certification to meet the requirements of the deal. Oracle's gripe was eventually tossed out of court, and last week the Pentagon defended its handling of the matter.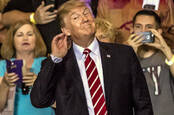 The Empire Strikes Back: Trump discovers $10bn JEDI cloud deal may go to nemesis Jeff Bezos, demands probe
READ MORE
"This information was alleged in a filing before the US Court of Federal Claims, by a company that was deemed to be non-competitive," Defense officials said.
"The US Court of Federal Claims did not sustain any of these complaints. Prior to the Court's ruling, the Department of Defense conducted its own investigations and determined that the integrity of the acquisition remains intact."
It seems, however, that the statement was not run by the military's own inspector general before it was released, because the Pentagon's internal watchdog said that it is not done investigating the matter by any means.
The Inspector General's office did not say when the investigation would wrap up, but did note that it wants to end the inquiry "as expeditiously as possible."
Meanwhile, the final decision to award the JEDI contract remains on hold, pending a review and report from the newly-appointed Secretary of Defense. ®