This article is more than 1 year old
Truckers, prepare to lose your jobs as UPS buys into self-driving tech
A human driver is still needed, for the moment at least
Package delivery giant UPS has invested in TuSimple, a self-driving startup based in San Diego, California, to develop autonomous trucks, the mega-corp announced on Thursday.
The two companies have been testing vehicles by shuttling truckloads of goods on a well-established freight route between Phoenix and Tucson in Arizona since May. Now, UPS' venture capital arm has gone a step further, investing a "minority stake" in TuSimple. The financial details were not revealed.
All the testing is done at level four autonomy - meaning the vehicle's computer system can do all the driving, a human operator is still required to take over in emergency situations if needed. At the moment, a UPS driver and TuSimple engineer are present on all autonomous trucks to monitor things like safety and transport delivery times along fixed routes.
There are several self-driving startups out there, and it looks like UPS chose TuSimple for its technical know-how for things like braking. A TuSimple spokesperson explained to The Register that it's one of the most difficult moves to pull off for class 8 tractor-trailers, a classification describing heavy duty trucks that can carry over 15,000 kilograms (~33,000 pounds).
"The braking distance for these trucks is about 100 meters - much longer than normal cars. We need to be able to see 1000 feet ahead of us," the spokesperson said The self-driving trucks use a range of cameras to see ahead, as well as LiDAR and radar sensors to monitor its local environment.
"While fully autonomous, driverless vehicles still have development and regulatory work ahead, we are excited by the advances in braking and other technologies that companies like TuSimple are mastering," said Scott Price, UPS' chief strategist and transformation officer.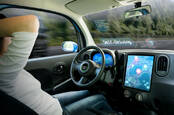 GM Cruise holds off on self-driving taxis for this year, says it needs more testing time to be safe
READ MORE
"All of these technologies offer significant safety and other benefits that will be realized long before the full vision of autonomous vehicles is brought to fruition – and UPS will be there, as a leader, implementing these new technologies in our fleet."
The startup hopes to slash costs during busy shipping seasons, where UPS has to rely on third-party contracts with other trucking companies to handle extra deliveries. UPS reckons that it could cut "average purchased transportation costs by 30 per cent," once it is able to reach a level where humans are no longer needed in the truck. Not only will this cut labor costs, but journeys are expected to be more fuel efficient too.
TuSimple was founded in 2015 by Xiaodi Hou, who is also currently the president and CTO. Hou earned his doctorate degree at the department of computation and neural systems at the California Institute of Technology, before founding TuSimple.
"We are honored by UPS's strategic investment and their vote of confidence in TuSimple, this proves their commitment to staying at the forefront of innovation. TuSimple is confident that it can accelerate bringing the first self-driving truck to market to increase road safety," he concluded. ®