This article is more than 1 year old
Generous Google gives Chrome users Inbox Zero: Sign-in outage boots own browser out of webmail, services
Baffling bug forces folks to use Safari, IE, etc
A bizarre outage left unlucky Chrome users unable to sign into Google services, from Gmail to Google Docs to even Chromebooks, earlier today.
Using Chrome in incognito mode, or using a non-Chrome browser – such as Safari, Firefox, Edge, or Internet Explorer – allowed folks to get into their accounts, strangely enough. The US ad goliath said in the past few minutes its systems are gradually returning to normal, and potentially letting people in as usual via Chrome.
Netizens across at least America and Europe began noticing problems around 1000 Pacific Time (1800 UTC) with weird messages preventing them from logging into their Google-hosted accounts. While those who were already logged into services could continue to use them, anyone who signed out, or had a session expire, was unable to get back in when using bog-standard Chrome.
The outage affected Gmail and account admin consoles, as well as the web giant's online productivity suite. Those who tried to get in were served a completely useless "Sorry, something went wrong there. Please try again" error message.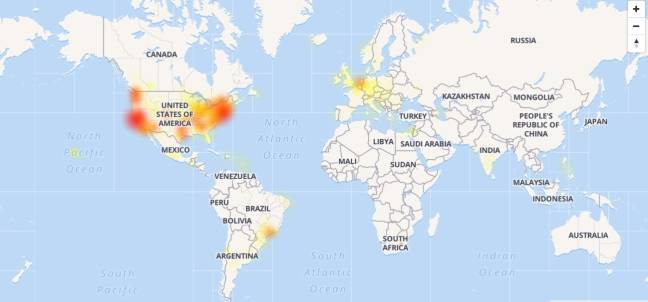 Outage map marking where complaints from netizens are piling in ... Source: Downdetector.com
Google's cloud platform revealed a few more technical details. "The issue with authentication to Google App Engine sites, Google Cloud Console, Identity Aware Proxy, and Google OAuth 2.0 endpoints should be resolved for the majority of customers and we expect a full resolution in the near future. We will provide another status update by Monday, 2019-08-19 13:30 US/Pacific with current details," a status page stated in the team's most recent update at time of writing.
"Some customers have reported success attempting to utilize an incognito window under the Chrome browser to login."
Meanwhile, the Gmail team has declared the downtime more or less over: "The problem with Gmail should be resolved for the vast majority of affected users. We will continue to work towards restoring service for the remaining affected users, but no further updates will be provided on the G Suite Status Dashboard. Please rest assured that system reliability is a top priority at Google, and we are making continuous improvements to make our systems better."
Google has yet to respond to a request for further explanation of the authentication screw-up. ®