This article is more than 1 year old
Behold, the quantum lawsuit in which both sides claim victory: Rimini St fails to bag $30m refund from Oracle
Order banning any further infringement stays, as does Big Red's legal bill
The quantum legal battle between Oracle and Rimini Street continues, with an appeals judge this month confirming Rimini can't claw back the $28.5m it was forced to cough up to foot Oracle's lawyer bills. And, yes, Rimini is still banned from ripping off Oracle's intellectual property.
We say quantum because the case always appears to be in a superposition of Oracle and Rimini both claiming victory simultaneously.
The case in question is that very long-running spat over copyright theft by bargain-basement enterprise software support biz Rimini Street. Back in 2015, after a five-year struggle through the courts, Rimini was ordered to pay Oracle damages for downloading and distributing Big Red's support materials without proper permission. Ever since then, Rimini has been wrangling to overturn that finding, and slash the amount it has to pay out, appealing the matter all the way to the US Supreme Court and back again.
In Oracle's corner, a spokesperson told us on Monday that a Ninth Circuit Court of Appeals ruled on Friday that Rimini can't claim back the $28.5m it was ordered to pay out to cover the database giant's attorneys' fees from earlier court hearings, despite Rimini's protests. According to Oracle, Rimini has, to date, handed $90m over to the Silicon Valley goliath as a result of the copyright debacle.
In addition, the appeals court upheld a permanent injunction [PDF] issued by a lower court ordering Rimini Street to not "reproduce, prepare derivative works from, or distribute [Oracle-owned] PeopleSoft, J.D. Edwards, or Siebel software or documentation," without permission, subject to other conditions, and to simply never "reproduce, prepare derivative works from, or distribute Oracle Database software."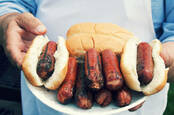 What links US Supreme Court, copyright legal bills, and stadium hot dog prices? A: Oracle
READ MORE
"We are extremely gratified that the Ninth Circuit affirmed the permanent injunction and attorneys' fees award," said Dorian Daley, Oracle's executive vice president and general counsel, in a canned statement.
"It is long past time for Rimini – a dishonest, serial infringer – to cease its unlawful conduct, to respect Oracle's intellectual property rights, and to abide by the rulings in this case."
The Larry-Ellison-founded biz added that it was glad the appeals court rejected "Rimini's absurd claim that it had prevailed at a trial where the jury found Rimini infringed Oracle's copyrights."
Meanwhile, in Rimini's corner on Monday, the support outfit was happy with last week's ruling, and everything in general, pretty much.
"Oracle lost 23 of 24 claims it originally pursued against Rimini Street in this case, with the jury finding that Rimini Street engaged in 'innocent infringement' on the remaining claim," Rimini beamed in a statement.
It also reiterated it stopped illegally sharing Oracle's copyrighted materials way before it was ordered to cease doing so by a judge: "Rimini Street had voluntarily stopped using the legacy processes that were found to be infringing before the 2015 trial and before the district court issued an injunction barring the use of those legacy processes in 2018."
Finally, it said the latest ruling "defines the manner in which Rimini Street can provide support services for certain Oracle product lines," and said it was still pondering going back to court to get that lawyers' bill refunded. The fun never ends. ®