Lenovo ThinkPad X390: A trusty workhorse that means business but it's not without a few flaws
Taking the PC maker's road warrior out on the, er, road
Hands on Lenovo's latest ThinkPad X390 arrived at Vulture Central and was promptly taken out on the road to assess how the business darling took to its new togs.
We were given a unit based on Intel's Core i7-8565U CPU paired with a resolutely non-upgradeable 16GB of PC4-19200 DDR4 RAM and a 512GB PCIe SSD. The display was a relatively mediocre 13.3" 1920x1080 unit, but more on that later.
The robust chassis has been slimmed, although continues the tradition of high build quality expected from the company's X series of laptops. Ours featured the optional Windows Hello compatible fingerprint reader and SIM slot for mobile warriors as well as the usual array of ports.
Socket to 'em
Those worried about connectivity will find a couple of full-sized USB 3.1 ports (one powered), and a USB-C port to charge the thing. Thunderbolt 3 is there as well as an extension for Ethernet, for which you'll need an adapter. And, of course, there is the compulsory smart card reader and a HDMI 1.4 port.
Lenovo does, however, win the award for most annoyingly placed MicroSD reader, opting to stick it on the same tray as the Micro-SIM, thus necessitating a repurposed paperclip to change.
While this isn't an issue with a rarely switched SIM, a SD card is likely to be swapped out on a more frequent basis.
The front-facing camera is also not much to write home about, clocking in at 1280x720: it struggles with low light and strong backlight. Then again, this laptop isn't about posing for selfies; it's all about business, and it will be more than sufficient for a quick video conference. It is also protected by a physical hardware shutter to stop it gazing on any, er, more private moments.
Though the camera on our unit was Windows Hello compatible, in our experience a fingerprint reader does a much better job at authentication than either Microsoft or Apple's take on facial recognition. The X390 was no exception in this regard.
The visuals
Mounted in the surprisingly thick bezel at the top of the laptop lid, the camera sits over the weakest part of this device – the display. Taking the Intel Integrated 620 graphics aside, which will romp through office apps but choke on anything too intensive – Alienware this ain't – the IPS AntiGlare LED screen seemed washed out, and even a little dim compared to others we've looked out (the Dell XPS 13 springs to mind).
More matte than glossy, the non-touch screen on our review model should make for a wide variety of viewing angles thanks to that IPS tech, but we found tilting the lid (which will go flat but not perform the gymnastics of the Yoga version) resulted in an alarming variation of brightness.
Of course, that matte display means fewer reflections, but on balance we'd prefer something just a little glossier. We also found the display below par in sunlight – while travelling we had to retreat to somewhere shady during those fleeting moments in Edinburgh when the Sun came out.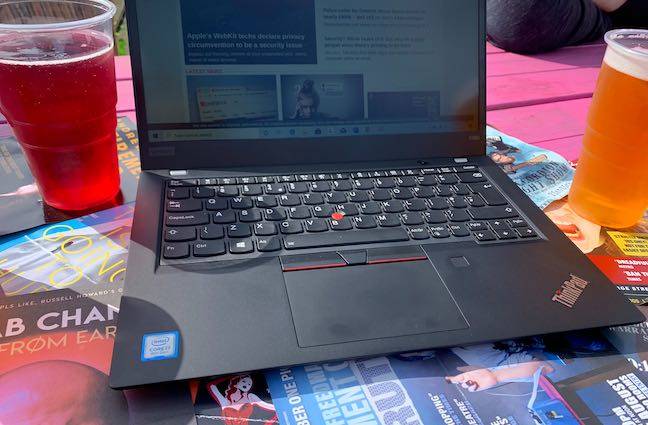 The Lenovo X390 out and about. Screen brightness set to EAT ALL THE BATTERY
Display aside, the X390 remains a compelling package for the road warrior. The key travel is as good as ever – keyboards have long been a highlight of the ThinkPad range, and we found the touchpad worked well, with the dedicated left and right click buttons complementing the love-it-or-loathe-it TrackPoint rubber nipple in the middle of the keyboard.
Popping a nano SIM into the ridiculously inconveniently located SIM tray (at the rear of the machine, and you need to shut the screen to get at it) brought up the mobile broadband. It usually took a few minutes of hunting after firing up for the X390 to find a network, but once in, things worked well with the lappy finding signal in places where our iPhone XS refused to.
Beware of the SIM
We struggled a bit with the SIM at first – our elderly EE Pay As You Go unit refused to connect. After a battle with the company's helpdesk, it transpired that the SIM had been locked through lack of use. Like the rest of the industry, EE sends out reminders warning of a lack of inactivity before permanently killing off the number after 270 days.
The only issue is that these warnings come through as SMS messages rather than emails to the account associated with SIM. So if, like us, the SIM is sitting in a long forgotten phone in a drawer, you may find it disconnected because, er, you never actually saw the bleatings.
EE, you see, won't send its warning to an email address even if one has been set up. It's all because creating that account with an email is "not mandatory", according to a spokesperson.
You have been warned.
Performance
Back to the X390. Overall performance was also excellent, and we were seldom troubled by much in the way of fan noise during day-to-day productivity tasks. That i7 happily chewed through the likes of Visual Studio and Office, and while the Intel 620 graphics won't set the world alight, if you're after the latest and greatest in 3D graphics, you're missing the point of this machine.
Battery life is claimed to be up to 17.6 hours, which is a little optimistic. With the screen at a usable brightness and Wi-Fi being used, we saw just over 7 hours at "better battery" settings before reaching for the 65W power adapter. Crank down the brightness and ramp up the power saving and you should be able to get closer to Lenovo's figures.
Conclusion
Overall, the Lenovo X390 is a good option for those looking for something to replace their old Windows 7 business laptop. ThinkPad durability means the thing can take a beating while still being relatively lightweight and compact. Performance from the eighth-generation Intel chippery is excellent and a wide range of ports (even a headphone/mic jack) cuts down on the dongles needed to be lugged on the road.
It's just a shame about the screen.
The unit we reviewed is priced at £1,449 including VAT, but excluding the mobile broadband option. ®