This article is more than 1 year old
Microsoft Chrom... Edge hits beta as new browser prepped for biz testing
Where will you stand now that Redmond has raised the web-surfing stakes?
Microsoft has rolled out the first beta version of its Chromium-based Edge web browser.
The pace of development has been quick: Microsoft signalled its intent to rebuild Edge using the Google-sponsored Chromium browser engine in December 2018. In April 2019 preview versions were released, including a Dev channel updated weekly, and a Canary channel updated daily. By May, a download for Mac was added and in June a preview for Windows 7 and 8.
Now the Edge Beta channel has gone live, described by Microsoft Windows Experiences corporate veep Joe Belfiore as "the third and final preview channel which will come online before launch". The Beta release will be updated around every six weeks until general availability.
When will Edge Chromium be generally available? Microsoft insists that it is not date-driven but indicated the team would be pleased with a stable release early in 2020.
The big unknown is whether Chromium-based Edge will be more successful than the current Edge, which has just 2.09 per cent global market share according to Statcounter. Google Chrome stands at 61.88 per cent and Apple's Safari accounts 15.09 per cent. Firefox has just 4.82 per cent, though still well ahead of Edge.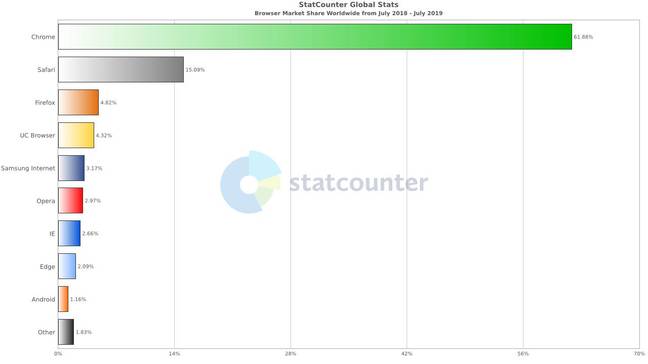 The current Edge has a market share just over 2%
Microsoft believes the new Edge has better chances.
A key reason for the small take-up of the current Edge is incompatibility, giving users a poor experience when they encounter sites which either do not work, or deliver a version of the site designed for legacy browsers. In many cases it would not be difficult for sites to adapt their code for Edge, but they have little incentive to do so, because of the small user base and the ease of directing them to Chrome.
Basing Edge on Chromium should go a long way to solving the problem. Further, availability across a wide range of devices and operating systems means that Edge will at least have the potential to win more market share – though persuading Android users away from Chrome, or Mac and iOS users away from Safari, will be an uphill battle.
Windows 7, though, which still accounts for a large chunk of users especially in business, is a different case, especially when combined with IE Mode, which can open a site in Internet Explorer in an Edge tab.
Chromium-based Edge will let enterprises opt to use Edge across all versions of Windows for the first time, while retaining support for legacy applications that require IE or the Silverlight plug-in. Microsoft argues that IE Mode is better for users than making them use two browsers, and perhaps forgetting to switch at the right moments.
Microsoft is well placed to make Edge the browser that integrates best with Windows, not only with IE Mode, but also with features like Application Guard, which lets you browse in an isolated Hyper-V container for better security on untrusted sites.
Next, Microsoft is aiming to differentiate its browser in a couple of areas. Microsoft is not innocent when it comes to grabbing unnecessary data, but unlike Google its business model is not dependent on advertising. Tracking protection is built in and can be set to Strict, explained as "Blocks the majority of third-party trackers, some sites might break." This is a hard problem, though, and not one that can be solved by browser settings alone.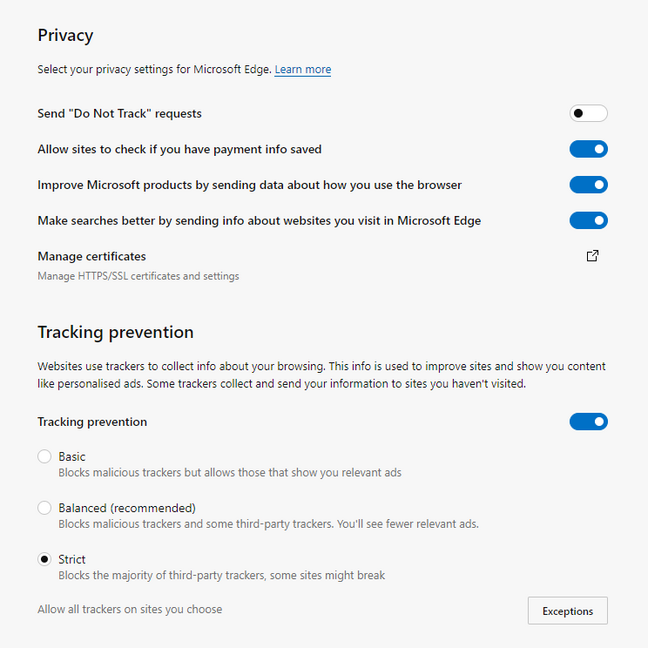 Privacy options in Chromium Edge
Third, the company is hyping productivity features in Edge, like Collections, now publicly available for the first time if you have the Canary channel installed. Collections is an extension that lets you add web pages to a group which appears in a side panel, and then export the data to Word or Excel.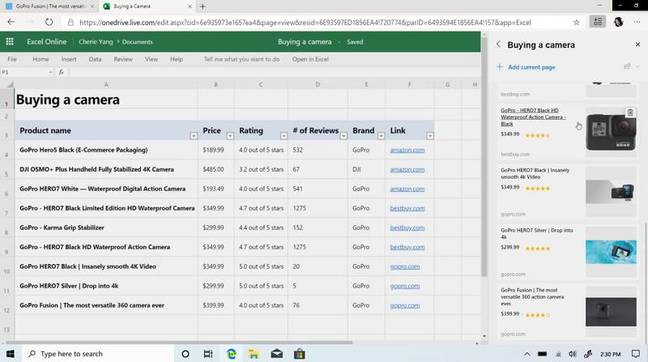 Collections, a productivity feature in the new Edge
Why is Microsoft bothering with Edge? It is a good question. The official answer here is to "serve Microsoft's customers well and ... provide mutual benefit for the larger web community while maintaining the marketplace benefits of competitive diversity in the browser ecosystem". You could translate this as not wanting to cede control of the browser entirely to Google, even though it can be argued that using Chromium is already a step in that direction.
This competitive element makes Microsoft's relationship with Google interesting. Belfiore said in today's announcement that "we've contributed more than 1,000 commits to the Chromium project" and insists that it has a healthy collaboration with Google engineers. It remains likely that Google will find ways to give Chrome users the best experience when using Google services. ®