This article is more than 1 year old
TSO Host no closer to solving customers' email issues as Brit firm pops up on more blacklists
Punters bemoan comms silence with no fix in sight
Updated Customers of Brit hosting outfit TSO Host are suffering from a cluster of issues leaving them without email services for a prolonged period or a clear idea when they'll get them back.
No one using TSO Host been able to send emails to Microsoft Hotmail or Outlook addresses since the end of July. The company blamed having its IP addresses blacklisted.
Cloud mail services have also been borked for more than a week, according to its status page. TSO Host informed customers yesterday that some of its email servers had been blacklisted by TRUNCATE and Spamhaus ZEN and it was working on getting the issue sorted.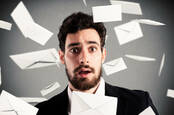 Microsoft blacklisted TSO Host's email IPs from Hotmail, Outlook inboxes and no one seems to care
READ MORE
A Reg reader and TSO Host punter told us: "They are in a right old mess since your last article about them. We run a few services with these guys. Their cloud mail service on mail3.gridhosts.co.uk has been down for about a week. No email for one of our sub companies – no idea how many people this must affect.
"They have poor SSL configuration issues with https://control.gridhost.co.uk/members/ Grade F on SSL Labs. They just cut me off when I complained about it.
"They have yet another mail server blacklisted (apollo.servers.prgn.misp.co.uk). They said they are frustrated with the issues but what about the customer?"
Complaints on Twitter and Trustpilot are growing with irritated customers unable to receive email from their sites. As usual, the main frustration is lack of communication from the company as much as it is the time taken to fix the problems.
The company suffered serious issues back in June with a security set back it described as "unauthorized code" on its network of shared servers.
TSO Host – it's a palindrome because they know hosting back to front apparently – is a domain name registrar and WordPress hosting provider with a claimed 250,000 customers. The Slough-based company recently opened an office in Singapore.
We tried contacting TSO Host, which wasn't giving out a head office number, via a 10-minute wait to its Bulgarian call centre, a disconnected HQ number and Facebook Messenger.
Live chat on the website was not working this morning. We will update this story if we get a response.
Updated 21 August to add
Following publication, TSO Host contacted us with the following statement:
"We are extremely sorry to customers who have experienced problems with their emails. We have fixed the issue for the majority of customers and corrected the root cause of the problem, however, we understand that a small number are still experiencing difficulties. We are working closely with Microsoft to resolve this as quickly as possible.
"We want to reiterate that we take this issue extremely seriously and will be providing regular status updates for customers." ®