This article is more than 1 year old
Eighty-year-old US 'web scam man' on the run after pocketing $250,000 in Dem 'donations'
Feds claim John Pierre Dupont created fundraising websites supposedly for Beto O'Rourke, others, then nicked the dosh
A man facing criminal charges for bilking US voters out of $250,000 by accepting donations for politicians, including Beto O'Rourke, is on the run.
John Pierre Dupont was due to appear in federal court in Manhattan back in March but failed to show, despite having posted $100,000 in bail. On Tuesday, federal authorities confirmed that he is officially considered a fugitive.
What makes Dupont's flight from justice more unusual is his age: he's 80 years old.
Age was seemingly no barrier to his website-building skills, though: the octogenarian, it is alleged, set up and ran no less than 15 websites that claimed to be accepting donations to political action committees (PACs) for several Democratic politicians, most notably Beto O'Rourke.
They included: Beto4Senate.org, SinemaForSenate.website (referring to Senator Krysten Sinema from Arizona), DemocratsForSenate.org and others featuring lesser known would-be politicians (BredesenForSenate.website, DonnellyForSenate.website, ManchinForSenate.website, and so on).
The Feds claimed Dupont was able to dupe more than 1,000 people to donate, via the websites, sums that ranged from $100 to $250, while using his previous name – John Gary Rinaldo – which he legally changed to Pierre Dupont in California in 2012.
Dupont kept up the pretense that the donation sites were real by sending a thank you messages to those that donated, Uncle Sam's prosecutors claim. But he crossed a legal line and got the Feds' attention when the thank-you message from Beto O'Rourke's fake site claimed to be from O'Rourke himself, court documents state.
How do you spell democart again?
Agents soon discovered a lot of sloppy work, it is alleged, including a misspelling of the word "Democrat" and the same quote attributed to different candidates on a range of different websites. The cops tracked Dupont down through his payment processors, and a large number of checks he deposited in a personal bank account.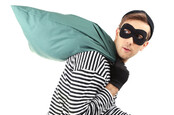 Criminal mastermind signed name as 'Thief' on receipts after buying stuff with stolen card
READ MORE
Dupont allegedly switched to taking cash and checks after complaining that he was being ripped off by payment processors taking 40 per cent of donations. The gathered evidence resulted in a case brought against him [PDF] alleging fraud and identity theft.
He was collared in Arizona in March, with US Attorney Geoffrey Berman noting at the time that Dupont had "falsely claimed to be raising money to support more than a dozen campaigns." In reality there was no political operation behind the websites, and Dupont spent the money himself, including on rent and $25,300 on a Mercedes Benz, the g-men claimed.
Dupont was granted bail and was given a March 25 date to appear in federal court in New York, but never showed. And now he is officially considered a fugitive, presumably hoping that people won't assume that an 80-year-old is really a suspected con man on the lam. ®