This article is more than 1 year old
Buying a Chromebook? Don't forget to check that best-before date
Google's little-known Auto Update Expiration D-Day leaves users bereft of auto software refreshes and more – here's how to check yours
It is unlikely to be printed on the box, but every Chromebook has an "Auto Update Expiration (AUE) Date" after which the operating system is unsupported by Google.
The authoritative document on the subject is here, where Google explains that it "provides each new hardware platform with 6.5 years of Auto Update support". While 6.5 years sounds reasonable, Google starts the clock ticking "when the first device on the platform is released". The exact definition of a "hardware platform" is not provided, but it presumably relates to the motherboard used. Later models may use the same hardware platform, which means they are not supported for as long. It is nothing to do with the purchase date.
What happens when the dreaded AUE date passes? This means there will be no more automatic software updates from Google, no technical support from Google, and "business and education customers... should not expect that they can manage their devices as expected using the Google Admin console".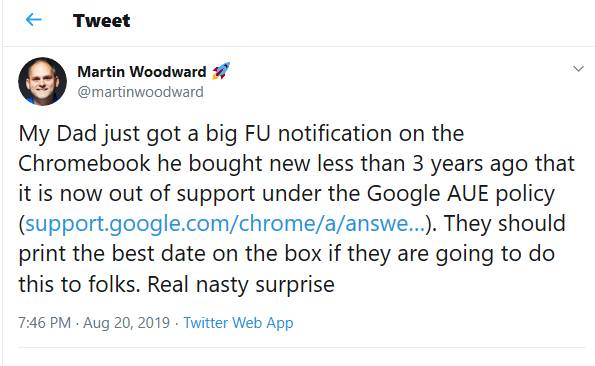 A user complains about a Chromebook expiring when less than three years old
If you happen to buy your Chromebook late in the product's life cycle, you may be surprised how soon the AUE date arrives. "My Dad just got a big FU notification on the Chromebook he bought new less than 3 years ago that it is now out of support under the Google AUE policy," complained Twitter user Martin Woodward (yes, veep of the Microsoft-supported .NET Foundation, though that is not relevant here).
One of the problems for users is that discovering how long your Chromebook has got can be a challenge. HP Chromebooks, for example, have model numbers like 14-ca050na, but Google's list of models has "Chromebook 14 G1" and so on. So you get pleas like this, posted to Google's community support but not answered:
I went to look up the auto update expiration date but my exact model is not listed. The closest one I found is the HP Chromebook 14 that has an expiration date of 6/2019 which just passed. Tried HP customer service but they have no idea and is going to research it and get back to me.
Here is a tip. Open up your Chromebook, and Chrome, and go to chrome://version. Check the Platform section, at the end of which is a code name. For example, an HP 14-ca050na has "stable channel snappy". Then head here, look up the codename, and note that it matches HP Chromebook 14 G5. This is listed in Google's table with an AUE date of November 2023.

Determining the platform codename on a Chromebook
You can continue to use your Chromebook after the AUE but the OS will be frozen in time and Google's warnings above will apply. The device will show a notification along the lines of: "This device will no longer receive the latest software updates. Please consider upgrading."
You would be lucky to get updates for so long for a typical Android device, but it is in contrast to a traditional laptop where you can carry on updating as best you can until it falls apart or becomes too slow to endure. Security is an issue, though a Chromebook is one of the more secure devices out there thanks to the sandboxing of applications and other techniques, so it is less serious than it would be for, say, a Windows PC.
It would be good if manufacturers would make it obvious how long your shiny new Chromebook has before the expiry date, though understandable that this is something they do not wish to highlight. Buyer beware. ®