This article is more than 1 year old
Dion? He off: HP Inc CEO Weisler quits over 'family health matter', Lores will be High-res
Wall Street miffed at flat Q3 earnings as printer boss set to take over in November
HP Inc on Thursday reported sales of $14.6bn for its fiscal Q3 2019 financial results, up 0.1 per cent from the year-ago quarter and just shy of the $14.61bn average anticipated by Wall Street analysts.
Shares in the US PCs'n'printers giant slipped more than six per cent in after-hours trading, a decline that may also have been driven by the news that CEO Dion Weisler will resign November 1 due to "a family health matter."
Enrique Lores, president of HP's imaging, printing and solutions group, will become chief exec following Weisler's departure.
Weisler joined HP in 2012, and became CEO in 2015. HP, the company said in a press release, has added $7bn in annual revenue during Weisler's tenure. With HP's shares going for around $12 when he took over in November 2015, when HP split into HP Inc and HPE, they can currently be bought for about $18.
For the three months to July 31, this year, the biz's fiscal Q3 2019 brought in net earnings of $1.2bn, up 34 per cent, year on year, reflecting an operating margin of 7.4 per cent. GAAP diluted EPS came in at $0.78 per share, significantly higher than the $0.55 figure predicted by analysts and the company's guidance in the $0.49 to $0.52.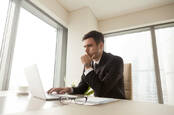 HP boss: Intel shortages are steering our suited customers to buy AMD
READ MORE
HP's Personal Systems business, its PC division, delivered an increase of 3 per cent in net revenue, reflecting a 5.6 per cent operating margin. Commercial net revenue rose 10 per cent and consumer net revenue declined 11 per cent. Total units sold increased 5 per cent, with notebooks rising 2 per cent and desktops up by 11 per cent. There's some speculation, however, this may be a boom driven by the desire to avoid pending tariffs.
The company's Printing unit saw revenue fall 5 per cent year-on-year while achieving 15.6 per cent operating margin. Total printer hardware unit sales declined 9 per cent, with commercial units down 4 per cent, consumer units down to 10 per cent, and printer supply revenue down 7 per cent.
"We are focused on doing the right things structurally and operationally for our business, but we need to do more," said Weisler on a conference call today with analysts, an acknowledgement of lackluster performance absent from his more upbeat statement in the company's earnings release:
"We are delivering industry leading innovation across our portfolio, and I am confident we are taking the right actions to position HP for the future." ®