Oracle OKs Oracle investors to sue Oracle: Put NetSuite suit before a judge – board panel
Investors peeved Larry Ellison owned 40% of the biz he paid billions in Big Red cash to buy
Three members of Oracle's board of directors say a class-action lawsuit, filed against Oracle in the US by Oracle shareholders over Oracle's 2016 acquisition of NetSuite, should go forward.
In a filing to the Delaware Chancery Court [PDF], the three-person Special Litigation Committee – a group comprised of members from Oracle's board assigned to help mediate a settlement – says it believes that both sides of the legal brouhaha will benefit from the matter being aired in court.
The class-action suit, brought against Big Red by its own shareholders in 2017, alleges that chairman Larry Ellison and co-CEO Safra Katz acted against the best interests of the database goliath. Instead, it is claimed, Ellison put his own interests ahead of the business, by pushing through the $9.3bn purchase of NetSuite, an ERP outfit that Oracle's founder just happened to control a 40 per cent stake in.
The shareholders, including the Southeastern Pennsylvania Transportation Authority, reckon Big Red's management only sought to line Ellison's pockets, and lobbed a class-action sueball on behalf of all Oracle investors. This put the company's board in the unenviable position of being in the middle of a conflict between Oracle's own stock owners and the company's top executives.
In hopes of keeping the case from going to trial, the Special Litigation Committee was appointed to help strike a settlement deal. Earlier this month, however, the committee told the court that things were at an impasse, and at this point taking the matter to court would probably be the best way forward.
"The SLC sought to negotiate a settlement that appropriately reflected the potential risks, advantages and disadvantages of further litigation," its memo, obtained by Reuters this week, reads.
"As noted those settlement negotiations were not successful. After carefully considering the issues, the SLC concluded it would not be in Oracle's best interests to seek to dismiss the derivative claims."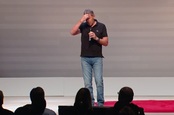 Larry's steely grip on Oracle led to 'conflicts of interest' in NetSuite buy-out, court told
READ MORE
In particular, the committee says it believes that a critical legal rule related to the case, Delaware's "Entire Fairness Doctrine" is not something it should decide, but rather a task for the courts.
"As a result of its investigation, it is the SLC's view that the critical legal issue of whether the challenged NetSuite acquisition will be reviewed under the entire fairness standard would not likely be resolved prior to trial, thereby posing risks to both plaintiff and defendants," the committee wrote.
"Establishing entire fairness is a heavy burden under Delaware law."
This does not, however, mean that Oracle's board is looking forward to a prolonged court battle. The committee says that it still believes getting the case settled as quickly as possible is the way to go, and once the court decides on a handful of key issues, the committee would like to see everyone agree on a settlement package. ®