This article is more than 1 year old
Biz forked out $115k to tout 'Time AI' crypto at Black Hat. Now it sues organizers because hackers heckled it
Lawsuit argues event bosses breached deal by failing to prevent audience hostility
Crown Sterling, a Newport Beach, California-based biz that calls itself "a leading digital cryptographic firm," is suing UBM, the UK-based owner of the Black Hat USA conference, in America for allegedly violating its sponsorship agreement.
The complaint [PDF], filed late last week in a New York district court, blames the conference organizers for allowing Black Hat attendees to disrupt Crown Sterling's talk about supposedly disruptive cryptographic technology – a presentation Crown Sterling paid $115,000 to present to hackers. The heckling then spilled online.
"This small group of detractors used this staged 'event' to initiate a smear campaign on social media during the conference and immediately after," the complaint stated. "In that campaign, these detractors defamed Crown Sterling, questioning both its integrity and its cryptography solutions, which they described in one publication as 'Snake Oil Crypto.'"
In a phone interview with The Register, Dan Guido, CEO of infosec biz Trail of Bits, who attended the Black Hat presentation, barracked the presentation, and was removed from the room by conference security, argued Crown Sterling was trying to "mix mysticism and magic into science" and that "none of it made any sense."
"The kinds of things they were discussing can't be found in the realm of reality," he said.
Social network posts alleging as much can still be found on Twitter.
The lawsuit names up to 10 "Doe" defendants, placeholders presumably for individuals who could face defamation lawsuits for disparaging Crown Sterling's technology.
The Register asked the Cali outfit's spokesperson whether the company intends to pursue social media critics or fault-finding conference attendees, however our query went unanswered. We doubt, however, the crypto biz will carry through on its implied threat against individual critics in California due to the US state's anti-SLAPP statute. We've seen businesses aggrieved by criticism punished for trying to silence unfavorable opinions.
Asked to comment on why the company's presentation was so poorly received, Crown Sterling's spokesperson replied with an excerpt from the organization's press release about its lawsuit:
"As with any disruptive technology, we anticipated a degree of pushback from industry participants and competitors also attending the conference," said Joseph Hopkins, chief operating officer of Crown Sterling.
"We were assured by Black Hat and its public Code of Conduct that our presence would be treated openly and fairly. That did not happen. The fact is, we relied upon these representations by Black Hat and we attended the conference in good faith, strictly adhering to the Black Hat stipulations for both exhibition and sponsored sessions."
One obstacle to Crown Sterling's claim will be UBM's Terms and Conditions agreement, which includes a liability limitation and indemnity clause that protects the event organizer.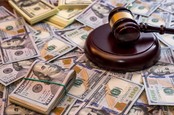 Open Source Security hit with bill for defamation claim
READ MORE
The crypto biz's video announcing its technology, dubbed TIME AI, is four minutes and thirty-nine seconds you'll never get back. Just know that it involves "multidimensional encryption technology including time, music's infinite variability, artificial intelligence, and most notably mathematical constants to generate entangled key pairs." Yes, music.
TIME.AI is, we're told, based on a paper, "Accurate and Infinite Prime Prediction from Novel Quasi-Prime Analytical Methodology," by Crown Sterling founder and CEO Robert Grant and physicist and number theorist Talal Ghannam. The paper is distributed through preprint server ArXiv, which accepts submissions, without peer review, from anyone who chooses to register.
Social networks similarly have few limitations on what people can say. And there you can find a math-literate security researcher who suggests the paper's math doesn't add up.
UBM, through a spokesperson, said it was aware of the lawsuit, and declined to comment. ®