Electric cars can't cut UK carbon emissions while only the wealthy can afford to own one
Why the EV market is stalling
Analysis UK government efforts to offset carbon emissions via the adoption of electric cars were last week slammed by the House of Commons Science and Technology Committee.
According to the panel's report into the matter, almost 20,000 conventional cars would need to be removed from the road every week for the next 31 years, if the UK is to meet its goal of having "almost every car and van" be "zero emission" by 2050.
Figures from the Society of Motor Manufacturers and Traders say that average new car emissions in the UK actually rose for the first time by 0.8 per cent from 2016 to 2017. It estimated that 55 per cent of this was attributable to consumers buying less efficient models and 45 per cent to consumers switching from diesel to petrol cars.
So although demand is growing for electric vehicles – with new registrations of plug-in cars increasing from 3,500 in 2013 to more than 223,000 by the end of July 2019 – it's not growing fast enough.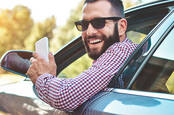 Electric vehicles won't help UK meet emissions targets: Time to get out and walk, warn MPs
READ MORE
The committee's report named a lack of charging point infrastructure as a major factor the government must address. Last year there were an estimated 16,500 public points, a figure that needs to rise to 100,000 by 2020, according Emu Analytics.
However, there are also a number of other areas affecting uptake, not least that upfront costs of purchasing electric vehicles remain high. For example, the list price of a VW Golf starts at £18,340, whereas an e-Golf starts at £32,730, falling to £28,230 after the government's Plug-in Grant at current levels.
Costs will, of course, drop. According to a projection by Bloomberg, electric vehicles could reach price equivalency with internal combustion engines by the mid-2020s.
But as a Parliamentary report into the electric vehicle market found last year, consumers are not only deterred by the high upfront costs of electric vehicles, but also the cost of replacement batteries and more expensive insurance.
The report also noted a number of logistical challenges, including "the technical challenge of managing increased electricity demand from EVs" and the "industrial challenges of moving to EV technology for automotive manufacturers, retailers and after-sales service providers".
Perhaps one of the biggest factors currently preventing mainstream adoption of electric vehicles is the lack of a second-hand market. Many people cannot afford to buy vehicles brand new – Brits purchased 8 million second-hand cars last year, according to The Society of Motor Manufacturers and Traders.
"It will be essential to develop a buoyant second-hand market for electric vehicles," said the Parliamentary report. "This would make them more affordable to consumers who typically do not purchase new vehicles, and also support the growth of the wider national EV fleet by improving residual values and so bolstering the economic case for new EV."
That may not happen for several decades. But until then, it's hard to see how electric vehicles won't remain the sole preserve of the relatively wealthy. ®