Google touts managed Linux, gets cosy with Dell in Chromebook Enterprise push
Security plus Linux application support – enough to tempt enterprises?
---
Google has rolled out its "first Chromebook Enterprise devices," these being a couple of Dell Latitude laptops launched at the VMWorld shindig currently under way in San Francisco.
The Dell Latitude 5400 and Latitude 5300 2-in-1 will now come loaded with an enterprise version of Chrome OS – though note that Chrome Enterprise is not new, and what Google is referring to is that Dell is packaging Chrome OS with the Enterprise Upgrade so it is available out of the box.
In the release Google also emphasised the ability to enable "managed Linux environments" on Chromebooks, primarily with development in mind. The latest Android Studio is supported on Chrome OS, via the ability to run Linux, even though Linux on Chrome OS is still in beta.
These Dell Chromebooks include Chrome Enterprise Upgrade, which adds a few features to the operating system:
Remote device disable
Option to delete all user data at the end of each session
Active Directory and SAML (Security Assertion Markup Language) single sign-on integration
Policy management through Google Admin console
Google says it has "massively revamped" this Admin console, with performance and design improvements in mind.
Linux on a Chromebook runs in a container via the project called Crostini, though Linux applications are not sandboxed from each other. Linux management features include tools to control who has access to the feature, VPN support, and container support.
Dell is highlighting its Unified Workspace tool which lets administrators manage Chromebooks alongside other devices and operating systems.
The Dell Latitude 5300 2-in-1 Chromebook Enterprise starts at $819.00, and the Latitude 5400 Chromebook Enterprise starts at $699.00.
It is the strategy which is of interest here. Dell has offered Chromebooks before, but mainly targeting education. It is now a G Suite reseller and will be pitching Google's wares to enterprises, alongside its existing huge Windows business.
When Chrome OS was first launched, the concept was that users would do almost everything in the Chrome browser. The company has gradually increased the scope of Chrome OS, adding the ability to run Android applications and then Linux applications, but within the security of containers so that the underlying operating system remains protected.
The ability to run full Linux applications is interesting not only for developers, but also for users who prefer to work with desktop applications such as an office suite or image editor, as well as the myriad Linux utilities and tools.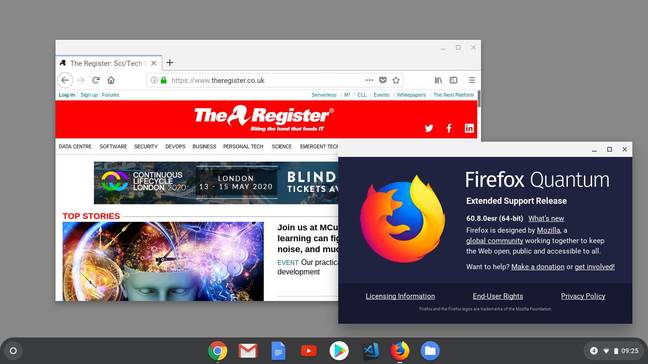 The Linux version of Firefox running on a Chromebook
Alongside Android application support, it makes Chrome OS more compelling as an alternative to Windows.
The ubiquity of Windows applications in the Enterprise will still make Chrome OS a tough sell. That said, despite the effort Microsoft has put into securing Windows, it is easier for Google to gradually open up Chrome OS with sandboxed support for Android and Linux applications, than it is for Microsoft to secure Windows while keeping compatibility with its huge legacy of existing applications. ®