This article is more than 1 year old
Twice in one month: Microsoft updates new-style Terminal preview
Kills roaming settings, makes HTML copy 'incontrovertible'
You can now get a Windows Terminal preview without the roam-tastic settings after 0.4 appeared in the Microsoft Store in Windows 10, replacing version 0.3 which it kicked out just a few weeks ago.
Windows Terminal is an official open source alternative to the familiar Windows utility. The team is careful to avoid stating that the new Terminal is an upgrade to the command prompt, since both the command prompt and PowerShell are shells rather than terminals, and the terminal applications merely connect to them. Microsoft also has no intention of removing the existing terminal app, which will continue to ship with Windows for compatibility reasons.
The new Terminal has features including multiple tabs, background images and background opacity, colour schemes, rich copy and paste and more. Terminal settings are stored in JSON files, including support for profiles, each of which becomes a menu option for starting a new tab, allowing endless customisation.
Settings include keyboard shortcuts, initial number of rows and columns, font and size, the command to execute when a new tab is opened and the starting directory.
Microsoft intends to release version 1.0 this winter, and in the meantime preview releases are coming thick and fast.
Version 0.4 has several new features. One of the most obvious is HTML copy, which is now "incontrovertible," meaning that a copy operation always results in HTML formatted text on the clipboard as well as a plain text version. If you want the plain text, you either have to rely on the receiving application – Word, for example, has a plain text option – or else resort to the desperate technique of pasting into Notepad or similar first.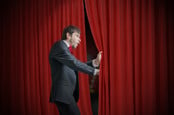 Microsoft's Windows Terminal preview gets jiggy with Azure – but emphasis on 'preview'
READ MORE
In addition, there is a new option to copy automatically on selecting text.
Another change is that settings no longer roam between machines. "We always thought it'd be a good idea to roam settings, but really it ended up being a lot more trouble than it was worth," the release notes state. One issue was that the Terminal would crash when set to a font that is not installed, after copying that setting from another machine.
If your JSON settings are corrupt, Terminal will now display a warning message rather than zapping the settings and replacing them with defaults. Incidentally, it is advisable to set your default JSON editor to something lightweight, or you may find that selecting Settings on the Terminal menu opens Visual Studio.
The team also said that "a broader range of settings errors will now result in useful diagnostics instead of useless diagnostics" – despite the risk of confusing users familiar with famously unhelpful Windows dialogs like "the system cannot find the file specified." ®