Researchers studying the influence Facebook has on democracy are threatening to quit over a lack of access to the antisocial network's data.
Earlier this year, Facebook agreed to provide anonymised data about how stories are shared across its platform. Some of the research has been looking at the possible effect the platform has had on elections around the world, with others examining why people share so-called "fake news".
Facebook has been heavily criticised for its role in the Cambridge Analytica scandal in the UK.
However, the funders working with Facebook on the project have warned the programme may be wound down next month.
In a letter (PDF) they said the "technical and legal complexities associated with making proprietary data available to independent scholars are greater than any of the parties originally understood."
Some 83 independent scholars whose proposals were selected for funding "have access to only a portion of what they were told they could expect, and this has made it difficult or, in some cases, impossible for them to complete the approved research," it said.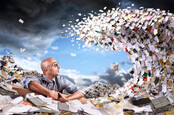 Cambridge Analytica didn't perform work for Leave.EU? Uh, not so fast, says whistleblower
READ MORE
"Nor can Facebook or its privacy and security advisory committees yet offer a definitive timetable for when the full set of proposed data can be made available."
The funders recommended pausing the Social Media and Democracy Research Grants process unless and until more information becomes available.
"If Facebook is still unable to provide the data specified in the initial [request for proposal] codebook by September 30, we recommend that the [Social Science Research Council] begin taking steps to wind down this project by the end of 2019."
They added that Facebook "has informed us that it plans to continue working to resolve the technical issues and legal questions that have hindered broader data access."
The groups providing money for the research include the Democracy Fund, the William and Flora Hewlett Foundation, the John S and James L Knight Foundation, the Charles Koch Foundation, and Omidyar Network.
Social Science Research Council president Alondra Nelson said researchers had complained about the "absence of the originally specified 'URL shares' data" along with other "hurdles".
Facebook claimed in a statement that datasets have "already been shared with over 60 researchers, across 17 labs, and 30 universities around the world."
It added:
Researchers currently in the program will continue to receive support and Facebook will continue to provide access to data and tooling to all grant recipients - current and future. We will provide data access to researchers who have not received financial awards through the standard Social Science One RFP processes. Additionally, in partnership with Social Science One, Facebook will continue to make more data available in a secure, privacy-protective manner.
In the coming weeks and months, Facebook and Social Science One will continue working collaboratively to identify valuable privacy protective datasets across a wide range of areas related to elections and democracy.
®