This article is more than 1 year old
Huawei new smartphone won't be Mate-y with Google apps as trade sanctions kick in
Chinese mobe maker says screw you, we'll build our own
Google has confirmed that Huawei's new smartphone, the Mate 30, will not include some of the world's most popular apps - Google Maps, YouTube and Gmail - as a result of US sanctions.
The Middle Kingdom mobe-maker's forthcoming phone is the first smartphone designed to work with next-generation 5G networks and is due to be launched in Munich on September 18.
But while it will continue to run Google's open-source Android operating system, Google's apps require a licensing agreement - at least within Europe - and so come under the trade restrictions placed on the Chinese manufacturer by the Trump Administration as part of a larger trade war with China.
The phone also won't have access to the Google Play store to download other apps, making the phone significantly less usable than equivalent smartphones on the market, unless you want to tip-toe through unofficial and under-regulated app souks. All the Google apps typically come pre-loaded on new Android phones.
Although the US government announced a second 90-day "extension" on Huawei earlier this month, which allows the company to continue to buy and use American products, Google told Reuters on Thursday that the Mate 30 is considered a new product and so the extension does not apply.
US companies can apply to have specific products exempted - and so far over 100 have with no apparent success - but Google will not say whether it has applied for such a permit. Huawei responded to the news by saying that it will not be allowed to include some of the most popular smartphone apps in its new flagship product in what has now become a routine combination of exasperation and defiance.
"Huawei will continue to use the Android OS and ecosystem if the US government allows us to do so. Otherwise, we will continue to develop our own operating system and ecosystem," the company said in a statement.
All live in Harmony
Earlier this month, Huawei formally announced its new operating system, HarmonyOS, and said it would be included in new devices starting this year, in response to US government restrictions. But while the company has made enormous progress on its own mobile operating system, it is still significantly behind more mature technologies like Android. Huawei is also reportedly working on its own version of Google Maps.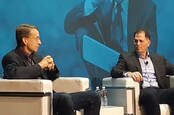 'Not productive for our business'... Michael Dell urges end to US-China tariff tit-for-tat spat
READ MORE
This is not the only issue Huawei has had launching its latest phone since the Trump Administration added the company to a "entities list" back in May, citing national security concerns. Chip company ARM has cut the company off, despite being a Japanese-owned business, because its chips contains some US tech.
Huawei claims that it is still able to use its homegrown Kirin 990 chipset in the Mate 30, even though it is based on ARM blueprints, because it has a perpetual ownership of the ARMv8 license which is not affected by the US ban.
President Trump is under increasing fire for the ongoing trade war with China that has seen tit-for-tat tariffs on a growing number of products, with business groups and farmers complaining about its impact on their bottom line. Huawei appears to be a bargaining chip within that larger trade war, with the president himself implying that its banned status may be lifted entirely with the signing of a new trade deal.
When it comes to new smartphones, Apple is expected to announce its latest iPhone at a launch on September 10 in California. Invitations were sent to select press yesterday, but at El Reg we're not expecting an envelope based on an ongoing blacklisting. ®