Canadian developer Mathieu Méa has gone public about his experience with Google's Play team after they abruptly terminated his publisher account at the end of last week.
Méa develops public transport apps and said his application, MonTransit, is installed on over 120,000 devices and used by 17,000 people a day. He has been developing for Android for nearly 10 years and his apps are open source.
On that fateful Friday 23 August morning he received four notifications from Google of "Violation of Deceptive Behavior policy", one for each of his apps. His developer account was terminated just 12 hours later and his apps removed from the Play Store. The dev said he appealed for reinstatement but received a template reply stating "After reviewing your appeal, we have confirmed our initial decision and will not be able to reinstate your developer account."
There was no detail in Google's notifications about what was deceiving in his applications and after combing through the Deceptive Behaviour policy he is none the wiser. Nothing of significance was recently changed by the company.
Méa wrote he is "willing to make any changes that would help make the app comply with the policy" but only once Google has provided more details of the ban.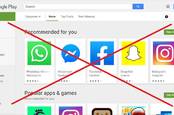 So your Google Play Publisher account has been terminated – of course you would want to know why exactly
READ MORE
Although Méa can direct users to an APK (Android package) download, using the Play Store is both easier and supposedly safer for users, though malware in the Store is not unknown.
Another issue is that income from AdMob, an ad network for mobile applications operated by Google, has now ceased.
Google may, for all we know, have strong reasons to terminate this account. Méa's complaint, though, is that he deserves at least to know what those reasons are. Small publishers are in no position to take on a company the size of Google, and while you can argue that it is always risky to make your living on someone else's proprietary platform, there is little alternative if you want to be a developer of mobile apps.
The only other recourse is to shout loudly in the hope that someone at Google is sufficiently embarrassed to give it their attention – a strategy that is quite often successful. That said, even if he is lucky enough to be reinstated, he will probably still not be told the rationale for the original decision.
There is an argument that companies must keep violation algorithms secret, since otherwise it helps the bad guys learn how to bypass them. That would not prevent sane human review of individual cases, or helpful advice to developers who genuinely want to conform to Google's policies.
The Register has asked Google to comment. ®
Similar topics