An intensely dreary Little Red Book of media quotes from Huawei founder Ren Zhengfei uses photos to boast of the company's grit and resilience to damage – illustrating the concept with what looks remarkably like a screenshot from computer game Il-2 Sturmovik: Battle of Stalingrad.
Foisted upon the world's media by Huawei's verbose self-promotion department, the 524-page Little Red Book* "In His Own Words: Dialogues With Ren" purports to be a transcript of every single Western media interview that Huawei founder Ren Zhengfei gave between January and May this year.
The screenshot, shared on Reddit around five months ago by a fan of the 1C:Maddox Games title, was featured in the Little Red Book alongside real photos of Huawei employees doing pleasant tasks such as carrying mobile phone base stations on their backs up South American mountains.
As everyone knows, Huawei is locked in a titanic struggle with the US over allegations that the company facilitates spying by Communist China on US interests through hidden backdoors in its products. Huawei strongly denies this.
Ren's Little Red Book is part of the Chinese firm's push to convince the West that it is trustworthy, complete with reassuring lines such as: "We are just an equipment vendor. Control of networks is in the hands of the carriers, not ours. We don't hold any customer data."
In the lengthy volume of Ren's pronouncements was this picture...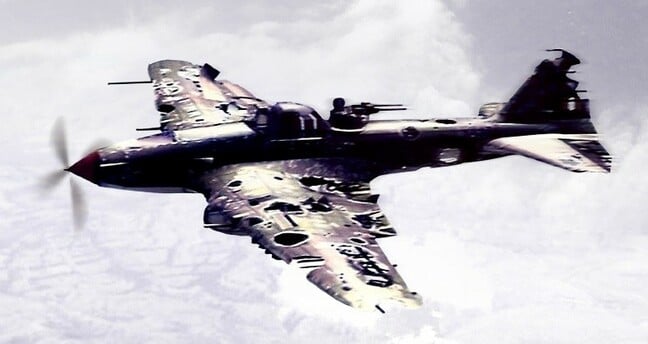 … along with the caption "Heroes are forged, not born. During World War II, the famous IL-2 kept flying even after being riddled by anti-aircraft shells and machine-gun fire from other planes. Although badly damaged, it finally made its way back home.""
Clearly this is intended to show that Huawei is just as resilient as Sergey Ilyushin's most widely produced aircraft design. Yet it just doesn't look right.
"This is most definitely 3D, a screen cap from a video game or edited," posted one Redditor to the link above. Another wrote: "I'm going with that's a screen grab, probably with added editing, from a video game." An especially sharp-eyed commenter suggested it was taken over Il-2 Sturmovik: Battle of Stalingrad's Volga map.
With the same image having come up on a regular Google search for "il-2 battle damage", this intrigued El Reg, so we took a close look at it. Strikingly, the damage depicted in the photo is unrealistic: the holes in the wing appear as black holes devoid of any light or reflection. It is also in colour, something relatively rare in the Second World War. Although the propeller spinner seems to show the tell-tale jagged edge of an anti-aliased line, this appears to be thanks to some clumsy photoshopping by Huawei operatives who cropped the aeroplane from its original background - and then ham-fistedly added in propeller blades.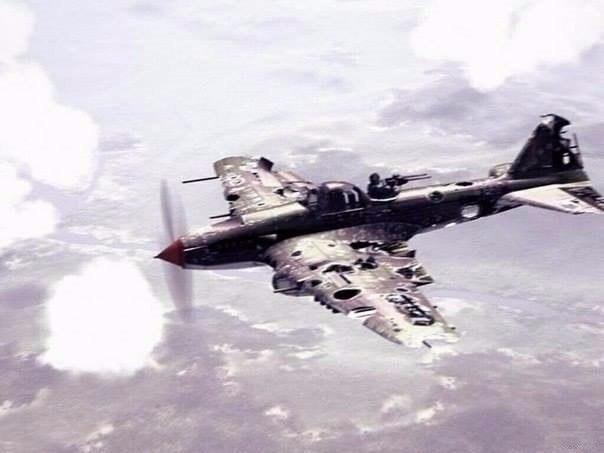 The original Il-2 Shturmovik screenshot before it was photoshopped by Huawei
Compare the Huawei screenshot with this Russian-language history of the Ilyushin Il-2 Sturmovik aircraft, which includes plenty of photos of real Il-2s, including some with actual battle damage.
As for authenticating the Huawei picture as a game screenshot, the best method is to compare the background with known features. Helpfully, a gamer posted a picture of the Il-2 Sturmovik: Battle of Stalingrad game's Volga map on the developer's official forums. Looking at the distinctively shaped stand of trees underneath the aeroplane from the screenshot combined with the turn in the river in the picture of the map, it seems likely that the landscape underneath is grid square 1225 on the Battle of Stalingrad Volga map.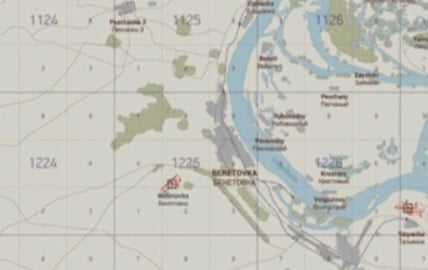 Compare the distinctive "cutout" in the green woodland shown in square 1225 with the gap in the trees shown in the original screenshot above. Also compare the river bend in map square 1226 with the river at the left hand edge of the original screenshot.
We noticed that the original screenshot was posted in 2017 to Russian internet community site Yaplakal, probably by a player of the Il-2 Sturmovik game. It also popped up on webpages dating back to around that era, even as far back as 2015, according to reverse-image-search results.
The Russian foreign affairs ministry made a similar blunder to Huawei a couple of years ago when it tried to use a video game screenshot as "proof" that America backed Islamic State terrorists in the Middle East, something as obviously bonkers as it sounds.
Huawei did not answer our request to explain why it likens its own grit and authenticity to a screenshot from a mid-2000s combat flight simulation game.
But it's good to know that it is definitely not ripping things off from others without their knowledge and then passing it off as proof of their own good credentials. Ahem. ®
Bootnote
The Little Red Book was a Chinese Communist Party volume of quotations from Mao Tse-tung, the architect of China's Cultural Revolution and a leading influence in its brand of modern communism.
Similar topics