Juniper Networks has agreed to pay $11.7m in penalties to the US Security and Exchange Commission (SEC) to settle charges that its subsidiaries violated bribery laws by paying for trips taken by customers and foreign officials in Russia and China.
On Thursday, the SEC announced the conclusion of its cease-and-desist proceedings against the networking equipment maker over its subsidiaries' alleged violations of the Foreign Corrupt Practices Act (FCPA).
The agency said sales employees of Juniper's Russia subsidiary, JNN Development Corporation, colluded with channel partners to provide discounts to customers and calling them expenses.
"Instead, the channel partners diverted the additional discounts into a fund held by the channel partners for travel and marketing expenses," the SEC Order says.
"These off-book funds were referred to as 'common funds' and were directed in part by JNN sales representatives. These 'common funds' were used in part to pay for customer trips, including trips for government officials, some of which were predominantly leisure in nature and had little to no educational or business purpose."
Though Juniper learned of these practices in late 2009, according to the SEC, it allowed the payments to continue for another four years until 2013.
Meanwhile, sales employees at the networking biz's Chinese subsidiaries – Juniper Networks Shanghai Ltd. and Juniper Networks R&D Ltd. – are said to have falsified trip and meeting agendas for customer events to understate the actual expenses. The employees, it's alleged, submitted their errant trip agendas to Juniper's legal department for approval, which they received without adequate review and after the event had occurred.
Last year, Juniper said in its February 9, 2018 regulatory Form 8-K that it had received a letter from the US Department of Justice (DOJ) that the agency had closed a previously disclosed investigation into possible FCPA violations without taking any action.
In a statement emailed to The Register, a Juniper spokesperson said the SEC settlement concludes the FCPA-related investigations of the company.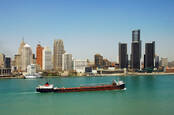 From Motown to lockdown: Detroit bathroom bung IT exec gets one year in the clink
READ MORE
"In connection with the settlement, the SEC highlighted Juniper's extensive cooperation with its investigation and its strengthened Integrity & Compliance Program," the company spokesperson said. "During the pendency of the investigation, Juniper took a number of steps to substantially strengthen and invest in our compliance program."
In an online post published Thursday, Mike Ward, VP and chief compliance officer for the networking biz, said, "We are pleased that this issue has come to a close. Operating with the highest ethical standards is of the utmost importance for Juniper Networks and acting with integrity, in everything we do, is the Juniper Way."
According to Ward, "Juniper neither admits nor denies it engaged in any wrongdoing."
Based on that assertion, the company has coughed up almost $12m for no reason. That's integrity. ®