Microsoft's Windows Virtual Desktop (WVD), an Azure-hosted VDI (Virtual Desktop Infrastructure), plugs an obvious gap in the company's cloud offerings, but comes with its fair share of annoyances too, many of which came up in a recent Ask Me Anything laid on by the team.
WVD went into public preview in March, six months after it was announced at the Ignite shindig in September last year.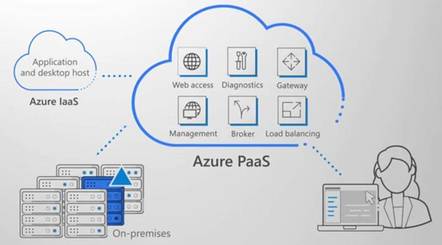 Windows Virtual Desktop blends hosted VMs with managed services and access to on-premises resources.
It is now feature-complete and expected to be generally available soon – Microsoft has said this will be before the end of the year.
In November 2018, Microsoft acquired FSLogix, a specialist in profile management. FSLogix profile containers integrate with WVD to improve the performance and capabilities of roaming profiles, giving each user persistent storage and enabling features such as OneDrive files on demand.
WVD makes a lot of sense for mobile users who need access to Windows desktop applications. It is more secure and more manageable than using a laptop, provided you can rely on a strong internet connection.
Redmond has essentially lifted and shifted its existing Remote Desktop Services to its cloud, complete with a dependency on Active Directory. This means you cannot just link your WVD environment to Azure Active Directory (AAD), used by Office 365. You either have to set up Azure AD Domain Services, or use Azure AD Connect to link to an on-premises Active Directory. If you go the AD Connect route, you will need a site-to-site VPN so that WVD can talk to a Domain Controller (DC). The most common setup seems to include AD Connect, site-to-site VPN and a DC on Azure.
How about just using AAD? "We've gotten lots of feedback on this and we are investigating," said Microsoft Program Manager Christian Montoya.
Setting up WVD is still easier than deploying an on-premises Remote Desktop Services solution. Microsoft hosts services like the Gateway and load balancer for you.
A common complaint, though, is that managing WVD is challenging. It is "difficult to do seemingly simple tasks such as adding users or devices to a pool," said one admin.
PowerShell is one answer. The other is to install a web application for managing WVD resources, which you can find here. The app is free, but you will have to pay to run it on your Azure tenant. Admins feel that this functionality should be built into the Azure Portal, and they have a reasonable point.
Why does video not work in Teams, Microsoft's collaboration solution? This question revealed two things. One, that camera redirection, enabling WVD to use the camera on your device, is not enabled by default but requires some PowerShell. Second, a technology called media offload, which will improve performance, will not be in the initial release but will be a "fast-follow" feature, said the team.
Will WVD support thin client devices such as those from Dell, or Linux clients? The answer is: not immediately. "We are working with partners like Dell to support thin clients," said senior Program Manager David Belanger. "At GA, our goal is to generally support thin clients running Windows 10 IoT Enterprise. We're also working with partners to support Linux based thin clients in the future."
The mitigating factor is that WVD does support an HTML5 client, which supports browsers on Linux and on Chrome OS – though not on mobile devices. There will also be clients for iOS and Android.
There is an issue with regionalisation. You can host WVD VMs in any region, but the management service will initially run only in the United States. "The performance in other Azure regions will improve rapidly in next 6+ months, as we deploy regional clusters," said the team.
It looks like WVD will follow Microsoft's usual pattern, with a number of shortcomings on launch that will be fixed later.
Despite everything, it is hard to see WVD not succeeding, for the licensing that comes free with the various Microsoft 365 subscriptions if nothing else. ®
Similar topics