Developer reconsiders npm command-line ad caper after outcry
Effort to help fund open-source projects proves too much
---
Software developer Feross Aboukhadijeh has decided to discontinue a funding experiment that brought text ads to the command line – and criticism from detractors.
Introduced on August 19, Aboukhadijeh's JavaScript package called funding represented an attempt to provide open source project maintainers with a way to generate revenue for their work.
Over the years, many people who maintain open source projects have complained that companies and individuals take advantage of their labor and profit from it without giving something back. Open source doesn't come with a default revenue model after all.
Companies formed around open source projects have attempted to deal with cloud providers that take without giving by changing the terms under which their projects are licensed, with mixed degrees of success. Individual developers have pursued other ways to get paid, through donations and sponsorships, for example. And companies catering to the open source community have implemented systems like GitHub Sponsors to facilitate user contributions. But rewarding developers for work that benefits the software-using public remains an unsolved problem.
After installing the funding package as a dependency in an existing JavaScript package, developers who subsequently integrated that package into their own code – done using using npm, a command line tool for pulling code modules from the npm registry – would see a text-based ad in the terminal.
Aboukhadijeh added funding to his JavaScript module standard, to present ads to standard users.
"At a high level, an open source maintainer should be able to npm install funding into their project and start receiving money for their maintenance work," Aboukhadijeh explained in a blog post earlier this week.
"Maintainers shouldn't need to pitch fifty companies to find the rare one that is open to the idea of supporting open source financially. This is not work that most maintainers enjoy doing, are actually good at, or should need to do."
Quite a few developers expressed support for Aboukhadijeh's experiment, even if doubts remain about whether ads represent the best way to support open source projects. At the same time, foisting ads on people without notice or consent alienated others – objections arrived via GitHub Issues comments and forums like Reddit.
As Vuk Petrovic, software engineer at Gravic, put it, "My terminal is the one last stronghold, the one last haven of peace that doesn't endlessly serve me ads from corporate overlords all day long.
"I vehemently oppose this idea as I believe it is fundamentally opposed to the open source ethos we've built up over decades. Yes, it's important to help out open source contributors and project owners – but ads are not the solution."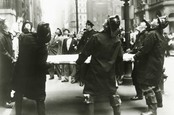 npm uninstall co-founder --global: Laurie Voss rides off into the sunset waving goodbye
READ MORE
Hosting biz Linode which ran an ad though funding, stopped doing so in response to the blowback but endorsed Aboukhadijeh's overall goals. In a statement emailed to The Register, Blair Lyon, VP of marketing at Linode, said, "We discontinued the ad after reflecting on the developer community's reaction, but we're still totally committed to supporting developers like Feross and the overall free and open source software movement."
The Register understands that NPM, the company operating the npm registry, plans to revise its policies to forbid packages that deliver ads. Aboukhadijeh meanwhile intends to explore other revenue-generation ideas.
"Approximately 100 per cent of the Fortune 500 use open source code," Aboukhadijeh wrote in his post. "Maintainers are just starting to wake up to our own power. Expect to be surprised. This certainly won't be the last open source funding experiment."
If Aboukhadijeh can find a broadly acceptable way to prompt people on the internet pay fairly for digital goods and labor, publishers, musicians and just about every other creator of online content struggling to secure a living wage will want to hear about it. ®