This article is more than 1 year old
Uber, Lyft and DoorDash put $30m apiece into ballot battle fund to kill gig-economy employee benefits
We love our employees, sorry, contractors, so much we'll spend a small fortune stopping them from getting overtime, workers' comp etc
Gig-economy giants Uber, Lyft and Doordash have put $30m apiece into a new fund to push a new California ballot measure that would prevent their workers get ordinary benefits like a minimum wage, overtime, workers' compensation and so on.
The corporations are worried about a new piece of legislation working its way through the legislature in Sacramento that would effectively make their workers employees. The bill, AB5, passed the Assembly in May, has gone through one Senate committee and was cleared by another on Friday, meaning it will now go to the full Senate.
Numerous groups have won exemptions to the provisions in AB5 - doctors, engineers, architects, hair stylists and others - by arguing that that they set their own prices and work directly with their customers. But gig-economy giants have not, meaning that they will be on the hook for employee benefits, which in real terms will increase their cost of labor by 20-30 per cent.
Uber, Lyft and others, including truckers and exotic dancers - have been lobbying fiercely against the new law but seemingly to little avail. With the bill looking increasingly likely to become law, they have struck on a new idea: push a ballot measure that Californian residents will vote on that would undercut the law.
It's a risky strategy: it is difficult to get a ballot measure officially approved in the first place and on average only 1 in 3 measures actually get voter approval. But the gig giants view it as essential to protect their current business models and so are planning to throw money at the problem.
And they have the governor's ear: according to reports, California governor Gavin Newsom - who would have to sign AB5 into law - met with Uber's general counsel and Lyft's president earlier this week to discuss the proposed law. He is also meeting with union leaders.
Anti-worker
Unsurprisingly, labor leaders are not impressed with the ballot measure idea, calling it "the biggest anti-worker campaign in decades." The executive secretary-treasurer of the California Labor Federation, Art Pulaski, also put out an aggressive statement in which he promised to "meet the gig companies' absurd political spending with a vigorous worker-led campaign to defeat this measure to ensure working people have the basic job protections and the right to organize a union they deserve under the law."
The lead politician behind AB5, Assemblywoman Lorena Gonzalez of San Diego, also had some harsh words, saying in a statement: "California has a long history of Wall Street billionaires pumping a fortune into ballot measures to further erode the middle class for their benefit. The voters of California won't stand for billionaires allowing their workers less rights than Wal-Mart employees."
Meanwhile, Uber, Lyft and Doordash have started their ballot campaign, outlining their main policy points in the press and beyond: drivers will get a $21 an hour minimum wage (although this will only kick in when they are actually driving a paying punter or heading to pick one up), as well as some benefits such as paid sick leave, and gig-economy workers will be able to collectively bargain with the companies in future.
Of course, those measures are full of holes with very few specifics whereas AB5 is much more precise and extends long standing employee rights to those companies' workers. But California has a long tradition of business-friendly policies and Californian voters tend to embrace capitalism, complete with all its flaws, when given a chance, so it is all up for grabs.
The law itself stems from a California Supreme Court decision last year that ruled companies like Uber and Lyft could not simply view their workers as independent contractors and provide them with no additional benefits.
That decision went against delivery company Dynamex Operations West in deciding its drivers were in fact employees and not independent contractors. The Supreme Court decision mostly comprised of talking through two different and conflicting tests for deciding whether someone was an employee or a contractor.
Tale of two tests
One - Borello - is a complex test of 11 factors that include things like payment method, whether special skills are involved, if the company supplies the tools for the job and so on. That test has long been used by companies to argue that their workers are not employees.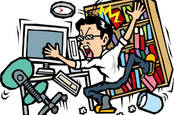 Ahem! Uber, Lyft etc: California Supremes just shook your gig economy with contractor ruling
READ MORE
The second test - called the Martinez test after a similar court case in which strawberry pickers tried, and failed, to get minimum wage back pay for work they had already done – is much simpler, containing three factors, often referred to as the ABC test because it says that employing someone happens under one of three definitions:
(a) to exercise control over the wages, hours, or working conditions, or (b) to suffer or permit to work, or (c) to engage, thereby creating a common law employment relationship.
Which, in non-legal terms, means that if a company gets to decide how much you earn and the job a worker does is a core part of its business, then their staff are employees, not contractors.
And the Supreme Court indicated very clearly that it felt the Martinez text was the way to go from now on: which puts gig-economy companies squarely into the employee camp. They aren't happy about that and so will use the money they could be giving to their "independent contractors" to try to push a legislative bypass into law through a direct ballot measure.
If they do end up going that route, the ballot measure will appear at the same time as the presidential election in November 2020. ®