This article is more than 1 year old
JACK OF ALL TIRADES: Twitter boss loses account to cunning foul-mouthed pranksters
Plus a Cisco bug, dentists bitten by malware, and France takes down a worm
Roundup This week ended with a bang, thanks to some Twitter hackers.
An (as yet) unknown group took over the account of Twitter co-founder and CEO Jack Dorsey for several hours on Friday, filling the billionaire's feed with incoherent and occasionally profane rants.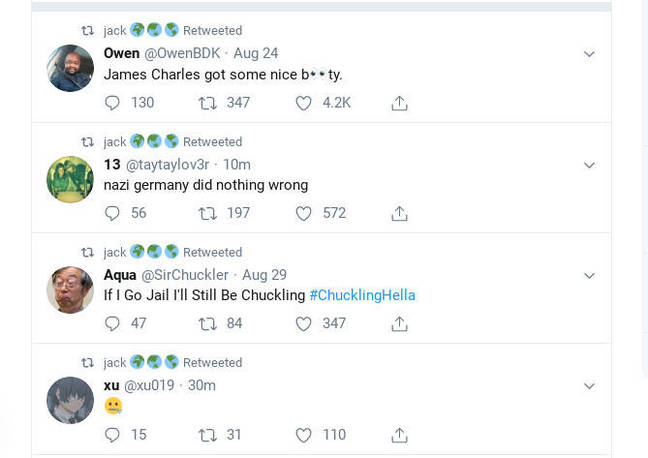 Twitter says it is investigating what happened, but it appears the account was taken over via third-party service Cloudhopper, an app that allows users to send out Tweets via SMS messages. In that case, the hackers could have performed a SIM swap attack - convincing Dorsey's phone carrier to assign his number to a different device - and then moved in.
According to security blogger Brian Krebs, the hackers may also be involved in a string of celebrity account takeovers conducted via SIM swapping tricks.
https://publish.twitter.com/?query=https%3A%2F%2Ftwitter.com%2Fbriankrebs%2Fstatus%2F1167540888228249600&widget=Tweet
Cisco patches "10/10" security bug
A high-severity vulnerability has been reported and patched for Cisco's IOS XE platform.
CVE-2019-12643 is an authentication bypass flaw in IOS XE's REST API that, if exploited, would allow the attacker to send arbitrary commands to the device. The bug got a maximum CVSS score of 10.
There are a few mitigating factors for this flaw, however. Most notably, the REST API is not enabled by default - admins have the option to use it for management tasks but the flaw won't be exposed out of the box. In fact, in IOS XE versions 16.7.1 and later, the vulnerable package is not even included, but rather it must be downloaded separately.
Additionally, Cisco notes, only four models, the Integrated Services Virtual Router, Cloud Services Router 1000V Series, ASR 1000 Series Aggregation Services Routers, and 4000 Series Integrated Services Routers support the vulnerable API.
Those who do use the REST API package will want to make sure they are running version 16.09.03 or later.
Ransomware bites down on US dentists
A serious ransomware outbreak at a service provider has left a number of dentists in the US unable to access patient records. DDS Safe confirmed media reports that its service had been hit by a ransomware infection that locked down user data. The decryption of the data is now underway, but DDS Safe is telling its customers not to type up any patient letters just yet.
"At this time, we caution against making any notifications because, as set forth above, we simply do not know the scope of the attack. We do not want to inform patients that their information has been compromised if it has not been," the records service said.
"Likewise, we do not want to make any assurances that no data was compromised as we may learn it has been."
Hardly reassuring.
Arxan hit with plagiarism claim in Magecart report
An otherwise normal report of a Magecart infection took a turn this week when security firm Arxan was accused of ripping off content from another company's report.
The passages in question were used in Arxan's disclosure of 80 new retail sites that were found to be infected. Rival security company RiskIQ noted that Arxan's info looked a lot like one of its Magecart reports, almost identical in fact.
Dear @AiteGroup & @Arxan, when you "write" a report on something don't plagiarize. "Your" introduction from your report is a straight copy from our 2018 "Inside Magecart" report.

Thread 1/n pic.twitter.com/S6zPCFLgRy

— Yonathan Klijnsma (@ydklijnsma) August 29, 2019
Arxan would later acknowledge the issue and apologize, saying it "forgot" to cite RiskIQ.
We sincerely apologize for the lack of citation. We have tremendous respect for RiskIQ and have removed the report until we can address the issues.

— Arxan Technologies (@Arxan) August 29, 2019
France and Avast team up to tackle malware outbreak
Avast says it recently joined forces with the French police to take down a European malware outbreak.
According to the security firm, a cryptomining worm known as Retadup had managed to infect some 850,000 machines, largely in South America.
When Avast mapped out the malware's network, they found that the command and control systems were operating out of France. That was when French police were called in to help break up the operation. Eventually, the two groups were able to seize the command and control servers and replace it with a cleaning tool that removes the malware from the infected machines.
"The cybercriminals behind Retadup had the ability to execute additional arbitrary malware on hundreds of thousands of computers worldwide," Avast malware analyst Jan Vojtěšek said.
"Our main objectives were to prevent them from executing destructive malware on a large scale, and to stop the cybercriminals from further abusing infected computers."
SafeBreach checks Check Point, uncovers security hole
Once again we have a report of vulnerabilities in a security product.
This week, SafeBreach says it uncovered and reported a privilege escalation flaw in Check Point Endpoint Security that would allow for attacks by way of unsigned DLLs.
Fortunately, the bug has been patched, and anyone running Endpoint Security can obtain the fix by updating to version E81.30 or later. ®