The UK's Trades Union Congress (TUC) is backing a campaign to extend flexible working rights to everyone from their first day in the job regardless of the type of contract they sign.
The move follows TUC findings that more than half (58 per cent) the UK workforce do not have access to flexible working and one in three people (30 per cent) have had requests for flexible working refused.
TUC general secretary Frances O'Grady said: "Flexible working should be a day one right that's available to everyone.
"But under current law bosses have free rein to turn down requests.
"It's not right that millions are struggling to balance their work and home lives. Ministers must change the law so that people can work flexibly – regardless of what type of contract they are on."
The TUC has joined forces with several other groups, including women's rights org the Fawcett Society, to back an online petition for the government to act.
The groups noted the disconnect between the 9 out of 10 people who want to work flexibly versus the 1 in 10 job listings advertised as flexible.
They argue that flexible working can help businesses increase staff retention, morale, productivity and company profits. Too often it is offered as a perk for senior staff rather than a normal way to work.
Current UK law, excluding Northern Ireland, gives staff the right to request flexible working after 26 weeks in the job. Employers are required to consider the request "in a reasonable manner" and have a meeting with the staff member.
IBM might want to take note: Big Blue killed off teleworking for some staff 2017, as we excluively revealed by The Reg - following the lead of one-time Yahoo CEO Marissa Mayer, who clamped down on workers.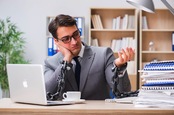 2009 IBM: Teleworking will save the WORLD! 2017 IBM: Get back to the office or else
READ MORE
Over at the grey suited corp, IBM people in the marketing, software and services divisions were told to get their asses into one of a number of regional hubs to work "shoulder to shoulder" with their colleagues.
The options were fairly stark at the time the ruling was enacted: it by IBM's way or the highway.
Today's TUC survey was carried out online and used a representative sample of 2,700 over-16-year-olds in full or part-time work. ®